So, you are planning on go to Burning Man?
Sub menu: Begin Here | Accculturation | Finding Your Tribe
10 Principles | The Gayborhood & Gayburbs | Finding a Queer Camp
Regional/World Wide QB Connections | What Defines a Queer Camp
Begin Here
Before you buy a ticket spend some time knowing exactly what you are getting in to. In 2012 there were 3000 people who ran for the gates within the first couple days. The Black Rock Desert has dust storms, white out conditions, hot and cold temps, lots of wind and a hell of a lot of noise. That ain't fairy dust blinding you on the playa!
These are some of the things you can do to prepare:
Your journey will be your own radical self-expression and what ever gift you bring to others in your immediacy and participation with be special for you. While there are a lot of carbon copy people in the world you will never be one of them.
Acculturation
The way acculturation was written on the playajoy.org web site resonates:
Definition: Ac·cul·tur·a·tion 1. A process by which the culture of an isolated society changes on contact with a different one. 2. A process by which a person acquires the culture of the society that he/she inhabits. – playajoy.org
Being a Radically Inclusive culture means that we embrace people for whomever they are and where-ever they stem from, and billionaires in inflatable houses, pop-stars in bustiers and (heavy sigh) Segway riders. It's always we… otherwise it becomes us versus them.
This is the act of adopting a culture and an ideal into your life that is desired. In the Burning Man culture much of what happens hinges on the 10 Principles. If these make sense to you the next step is putting them into practice.
Some camps have programs for teaching new burners how to be a part of their culture or the burner community. A camp like AstroPups (for example) has required new camp members to be sponsored by an existing member and go through training to understand their participation in and outside the camp.
Life is about balance. Life is perspective and the 10 Principles shine very differently depending on where you are in your journey through the Burning Man culture.
Not part of a camp? Working it out on your own? That's okay too, but before you go bouncing out there be sure to read the Burning Man Official Survival Guide!
10 Principles (+1)
The the truest source of the 10 Principles find it on the official Burning Man web site. These items listed are very important when it comes to a community but are not carved in granite anywhere or come from a burning bush.
Radical Inclusion
Gifting
Decommodification
Radical Self-reliance
Radical Self-expression
Communal Effort
Civic Responsibility
Leave No Trace (LNT)
Participation
Immediacy
(plus 1) Gratitude, or Consent, or
The Gayborhood / Queerborhood / Rainbow Road
This region of the city has evolved to be the epicenter of queer activity on the playa. (Read more here) It is essentially the Castro of Black Rock City, NV. It is profound how many people do not know anything about the Gayborhood or this site, for that matter.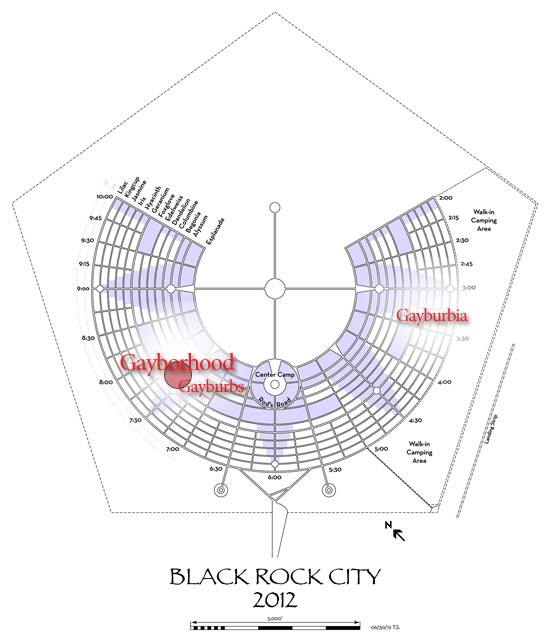 By 2015 the term Gayborhood was falling out of favor because of the focus of the G of the LGBTQ acronym and a more conducive name is still being looked for. 2015 and 2016 saw Rainbow Road in its stead.
Searching for your place?
We maintain the Queer Burners Directory, an organized listing of LGBTQ+ and ally camps where you can look up and start exploring camps and find one that might be a good fit for you.
Here are lists from previous years:
2019 | 2018 | 2017 | 2016 | 2015 | 2014 | 2013 | 2012 | 2011
Queer camps can be safe start for your beginning on the playa.
Group camps can be a safe space but many enjoy being on their own.
The beauty of Burning Man is you can start your journey any way you want but you can't control the journey itself. Either way you begin it will not match the end… do not try and control it. Let nature take its course.
Joining a Camp
You will be hard to find any camp that is 100% of any single identity let alone one based on sexual orientation. Even Queer identified camps have members who are heterosexual or other sexual orientations or identities. We also have a wide variety of people who self identify as various genders. As part of the community it is radical inclusion that makes your time at Burning Man the spice of life.
Camping by category: Queer Camps | Gay | Lesbian | x-Gender | Spiritual | Other
Sex Positive | Peaceful Quiet | Thump-Thump
Start with participating with the camps and their community before jumping right into asking them to be a part of their community. Find out if it is right for you or you for them. The truth is you might or might not be a good fit on either side.
You can make your own camp site anywhere in the city that is not already reserved by Burning Man Placement; which is clearly defined in a map provided in your guide that you get from the Greeter Station on the way in. Taking your own path is viable, but it all depends on what you want to give or take away from the experience. Civic Responsibility and Community are 2 major parts of Burning Man, but the journey unfolds as you move ahead.
What defines a Queer Camp
As noted above anyone would be hard-pressed to say a camp is 100% of anything. All camps are fairly integrated on some level when it comes to sexual orientation or identity. You have heard "variety is the spice of life"? Radical inclusion is is spicy and with all the other aspects of the 10 Principles they combine for a full micro community; camp, village, or city.
"Queer Camps" are usually voluntarily self identified as such, but the previous paragraph still applies, some are not comfortable defining themselves as Queer Camps for a variety of reasons. BY some account the association is strictly semantics and philosophy when ultimately we are working on a common cause. This is because we are (ideally) here to promote the 10 Principles and apply it evenly.
The 7:30 Sector are full of Queer and Near-Queer camps although we generally know that not all camp-mates are so easily defined. And as of 2019 the 4:30 sector, too. Queer Burners, The Gayborhood and other LGBTQ burners all have blurry lines.
Regional Connections
The future blood of Burning Man is in it's regions, it is said, as the life of an event in the middle of nowhere for almost a hundred thousand people is really 8+ days long but in the default world it can be eternal. Start with your Official Burning Man Regional page to connect what is often amazing people.
Regional = Means in other regions of the world / country
There are too many official and non-official regional events in the world to list here. The official ones are listed on the Burning Man site (linked above). While the Regional List on the Burning Man [dot] Org web site should be your primary list for seeking out locals here is a list of resources related to our web site and those of our friends:
QB Regional Pages
* denotes member created groups while the others were generated by the creator of Queer Burners.
Joining your Regional Community
There is no way to stress this enough… if you have it within your ability, seek out your Regional Community. There is a directory on the Burning Man web site with all the official regions listed. Who knows, maybe you can volunteer to be a leader yourself and start your own region.
With the link above, you will be put in touch with a Regional Contact who might assist you in getting in touch with others in your area. You can easily do a search using Google too! There is a high probability that your community has a page on Facebook at least.
Do not confuse this with Regional Events, though the two are related, events are pockets of micro-burns all over the world that bring the Burning Man spirit home. One example is "Element-11" which is produced by members of the Salt Lake City Burning Man Community. "All Of Us" is an unofficial regional event of which there are also many.
Burning Man and the 10 Principles from Larry Harvey are the foundation of this community ideology that by fully embracing the things many of us hold dear. The LGBTQ community may have been there in some way since the beginning, but we have our first records of radical participating began about 1993 in our history section.
There are safe places popping up more and more for LGBTQ people at Burning Man and the events in regional locations all over the world. Not all burners are altruistic in the matters of those marginalized in the world historically. Even today the main event in Nevada and many regional events are very hetero-normative and can my misogynist and unwelcoming for LGBTQ participants. So we created one with a stated focus for LGBTQ and our allies call All Of Us that attempts to flip the paradigm.
To be clear, the Burning Man community did not create these events to exclude LGBTQ but invited anyone who wanted to play along. The model of the 10 Principles is literally everything queer people could want and are attracted to this community because of those stated standards. But where some fail is assuming that our differences can be collapsed into one people one cause thinking. People of Color, Queers and others still want to be seen for what they bring and feel safe in their identities instead of flattened into a single thread.
It takes a lot from some marginalized people to trust going out into an environment deigned to kill them and feel safe. Without Queer Safe places there are many LGBTQ people who would never have been willing to try Burning Man at all. Even inside our community there are aggressions that use an old argument accusing queer spaces of being a bubble that keeps some people out and some people in. While not 100% wrong or right these kinds of attacks on ideology and identity offer nothing but unsolicited and unhelpful fodder for people who do not understand what it is like to feel fear in daily living.
The Good News is this! In 2016 we have been engaging with BMorg more and they have on some level been listening. We had a meeting with data we brought to the table and a group of us collected to demonstrate how important queer spaces are. Then with the Cultural Direction Setting project with BMorg 2018 – 2020 we saw a growing understanding of queer voices on playa.
We have an uncertain future with Burning Man right now that will probably even out. With the cancellation of the physical event for 2020 there is a financial question about the future of Burning Man as an event altogether. The community will still thrive or look the next new thing. The ideology is sound even if some of the voices in it are flawed – on all sides. But we care about – IT.