Burning Man began in San Francisco at Baker Beach in 1986 and there might be an assumption that LGBT people have been a part of that since the beginning. The founders (BM link opens in new tab) of this community help steer the ship even to today. It all started with Larry Harvey and a group of friends who built a wooden man and burned him in effigy following a rough breakup in a heterosexual relationship(1). Burning Man began as a bonfire ritual on the summer solstice in 1986 when Larry Harvey, Jerry James, [John Law] and a few friends met on Baker Beach in San Francisco and burned an 8 feet (2.4 m) tall wooden man as well as a smaller wooden dog(2). To get Burning Man History from the organization point of view. (3)
Related Links: LGBT in Black Rock City | Gallery | All Of Us 2015 | 2016 | 2017 | 2018 | 2021
Queer Burner History at Black Rock City
This History of the Gayborhood is an effort to update the time-line of Queer participation on the Playa over the years. Some of the details below have several authors and notes and we will note them at each point.
Sources: Nathan | Toaster | Sister Porn
In 1993, Burning Man was an event of about 2000 people and there was no annual 'theme' for the event, there were no organized streets, or registered theme camps. It was much less governed by rules because it was such a small event, there wasn't really a need for rules. Plus, the gathering in the desert was to make art with fire, and so the anarchist spirit didn't really lend itself to rules. While the event was 'anarchistic', it also was perceived at first by many early gay participants as a 'straight event' that was supportive of gay people, but in the early days, appeared to not be a space where other gay people were easily found. (Nathan)
Ggreg Deborah Taylor, aka Nambla the Clown. Photos by Mark Geller.

Queer San Francisco Experience in the Early 1990's
Like the ravers and the San Francisco Cacophony Society, queer creativity and participation on the Playa had its roots off the Playa. The context of the early 1990's was very shaped by AIDS activism that was very visible at fund raisers and parties, and these events had an edge that reflected the times. Queer artists and event promoters who were helping create a wild queer party scene in San Francisco during the 1990's helped create the context for Burning Man participation on the Playa. (Nathan)

Queer activism and culture in the 1990's generated from San Francisco sometimes took the form of performance art and road trip adventures. Queer Nation's "Mall Zaps" and the "Lavender Tortoise" road trips to Reno of the early 90's organized by art and event promoter Ggreg Taylor were examples. (Nathan)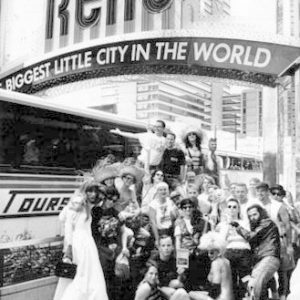 In addition to the 1990's activist and "Club Kid" culture, many other queer cultural scenes were happening, such as the Radical Fairies, Sisters of Perpetual Indulgence, and others. Like fire performance and other kinds of radical art and entertainment happening in San Francisco, the desert became a new place to celebrate radical culture of every kind that was becoming more regulated in the city of San Francisco as the 90's advanced. (Nathan)
1993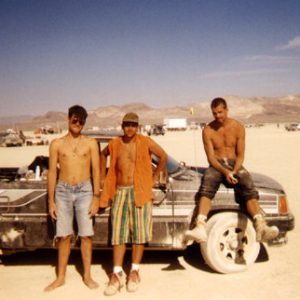 Three queer San Franciscans named Gabriel, Bart and Graham went with a car, a tent, and very limited supplies to check out Burning Man. They were regulars at Radical Faerie events, SF clubs etc. and had heard about Burning Man as an arts event, but didn't know any friends who were going. So they went. They didn't notice any other gay people at the time, but when they came home, they told all their friends, and started a tradition of coming home and telling everyone's friends about Burning Man. This group eventually grew into the 200-300 person queer Avalon Village at the event for many years. (Nathan)
The Burning Man event in 1993 was smaller and followed a rhythm that was possible with roughly 2000 people that is different than with 50,000+ people today. The entire community could see when anything happened like the start of a procession with fire breathers, dancers and drums that could be heard from far away.
1994 – 1995
The event was mostly a Friday to Monday event with some rituals that happened pretty routinely. During the day people would drive to Fly Hot Springs or Gerlach for food. At night, random parties would happen at different camps, but Saturday night there was a procession of dancers and performers, and a series of art installations being burned; Sunday night was the Burning of the Man himself. The rave camp was placed a mile outside of the rest of the camping area, and after all the fire events finished, everyone would head out to the raves to dance until sunrise. (Nathan)
1996
The event grew in size and some of these routines started to turn into bigger traditions. The Saturday night procession turned into a full scale opera. The raves grew from small-ish sound system events to huge parties with fire performers and a much bigger scale. The whole event adopted an Inferno "Hell-Co" theme of sorts, which wasn't expressed as an official theme, but functioned as an art theme that was the first time the idea of a theme really came into being. (Nathan)
In this period of 1993-1996, Queer participation was as anarchistic as the rest of the event. There were no theme camps or very organized anything, but queer people participated in the event and began building small communities within the event that would later become larger village communities. (Nathan)
In 1996 Burning Man grew in size to 8000 people and had a series of accidents that required changing the event. A person drove through a tent and ran over another participant, and organizers for the event made efforts to maintain the anarchistic spirit of the event while creating rules to also promote safety. A map was created for the event and driving (unless driving a permitted art car) was no longer allowed. Theme camps and organized participation developed out of this, and the event theme itself seemed to become an organizing tool. (Nathan)
1997
The official theme of "fertility – the living land" seemed designed as a calming theme after the 1996 inferno. Many participants wondered if Burning Man could continue given that it adopted new rules, especially the rule to ban driving, as it would prevent one of the best features of the event; driving to Fly Hot Springs to soak for the day. People also wondered if the organized road map and camps would kill the anarchistic feeling of the event. But the event continued to inspire people and work through these changes. (Nathan)
Queer Camps Began Organizing on the Playa
Early camps that got started were Jiffy Lube (which became M*A*S*Hcara for a time), the Black Rock Gym and Beauty Bar (which later became Avalon Village), and others.  (Nathan)
Jiffy Lube & M*A*S*Hcara
While Jiffy Lube had been around since 1995 as a sex-positive space, it registered in 1997 as a theme camp with a different name – M*A*S*Hcara. Using its historic "M*A*S*H style tent as an event area, Ggreg Taylor worked with camp organizers to add a raised back-room entry into the back of a semi-truck as a sex space with Wizard of Oz footage playing.  (Nathan)
2000
The BM theme was "The Body", and that year the Black Rock Gym and Beauty Bar was formed by Gabriel Plumlee, Nathan Purkiss, Scott Barney, Huck Worden, Victor Torres, John Cordaro,
Patrick Schiller, and others who had been attending Burning Man since the early 1990's. The gym included a fully functional dry sauna to and the beauty bar featured drag artists sharing beauty tips for anyone who trusted them with makeovers. (Nathan)
tie-dye windsock art by Xavier Caylor, Jeff Kennedy and others

In 2000 queer artists Jeff Kennedy and Xavier Caylor (and others who would later be involved in creating Audrey's cabaret), created Playa art installations using black-light radiant fabric art. (Nathan)

After creating the Black Rock Gym and Beauty Bar of 2000 and 2001, many of the Gym / Beauty Bar camp mates wanted to start their own projects. Scott Barney wanted to create a
fairy-wing making factory camp called "Fairyland", and Huck Worden wanted to create a lush lounge called the Sacrafactory, Jim Rudolf wanted to create a mobile café to serve Vietnamese Iced Coffee, and Nathan Purkiss and Gabriel Plumlee wanted to bring the gym and sauna back again. Instead of breaking up into several camps, the groups returned in 2002 as Avalon Village. (Nathan)
Avalon Village (The First Gayborhood)
2002-2008 joined by several theme camps with about 200-300 people camping at the village each year, (but about 500 people connected on lists of the various camps attended on alternating years). The camp was envisioned as a space for queer people to find other queer people, and a highly interactive village of artists, performers and queer / queer friendly community. Activities at the village included poi spinning classes, fairy wing and tutu making, wrestling matches, fire dancing, massage workshops, drag performance, queer discussion
groups, parties, daily sober meetings, serving Vietnamese Iced Coffee daily, and many other activities. (Nathan)
Avalon Village was first conceived as "the Isle of Avalon" for the Floating World theme of 2002, but each year a variation on Avalon was decided for the community, often using acronym A.S.S. for the years when the community took the name Avalon Space Station and Avalon Synapse Station, etc. (Nathan)
…everyone was hooked and wanted to do more. It turned into a very committed community for many years, and many of the community still participate through a camp that would be formed later called "the Mudskippers". (Nathan)
Camps in Avalon Village
Fairyland (2002 – 2008)
Fairyland hosted an enormously popular fairy-wing and Tutu-making factory. Wing-making materials made out of recycled materials (wire hangers et.) and instructions on how to make fairy wings awaited Burners who came, and people spent hours each day crafting beautiful fairy wings and tutus of every kind to wear out on the Playa. (Nathan)
AstroPups (2003 – 2008)
They regularly held wrestling matches, prom dances, parties and all kinds of good fun for many years. Like many of the Avalon camps, first and foremost, the camp
was organized to foster a spirit of community and companionship. Astropups are still an active camp (2017). (Nathan)
Sacrafactory (2003 – 2008)
a deep purple lounge reminiscent of an opium den where participants could invent new sacraments.
Thin Air Lounge (2003 – 2008)
was a 1960's classic airport lounge with drag hostesses serving cocktails.
Quixotes Cabaret (2005-2008)
a troupe of performers mostly from the UK who travel to the playa each year to build a theater with performances both by camp mates, and any participants from the playa who wants to join in their stage events. They have always been more of a "straight friendly" group, but they made their home in the queer-friendly Avalon village for many years. Quixotes are still an active camp (2017).
Vietnamese Iced Coffee Camp (2002-2008)
a mobile cart that would serve Vietnamese Iced Coffee daily at the camp, then move out onto the Playa to serve VICC at night!

Montage (2006-2008)
the brainchild of RJ. Merck working with photographer Wendell Delano. Merck worked with Delano on building his photos into illuminated montages on large wooden boxes. The camp is still active and a part of Comfort & Joy (2017)

Camp Stella (2005-2008)
Stella first became a theme camp at Burning Man in 2003 but joined Avalon Village in 2005. The camp offered a clean and sober space and daily meetings for Burners. Still active in 2017)

Celestial Bodies, Temple of Poi & IDC
Over the years several other theme camps joined Avalon for 1-year stints, such as Temple of Poi, the Interplanetary Dance Commandos (IDC) and Celestial Bodies. Temple of Poi hosted fire performances, IDC hosted a dance space, and Celestial Bodies featured their famous saloon as part of Avalon Village in 2009.

Avalon Village last organized on the Playa as a village in 2008. The year before, 2007 had been a peak year with dynamic theme camps, art, a beautiful plaza with multiple towers lit up with twinkling blue lights, and great energy. By 2008, many of the camp mates were starting to feel burnt out about pulling together the village for many years. It also seemed that Burning Man
was encouraging the village to break up into theme camps, as we had feedback from them that the size of our village was unwieldy. Plus, the American Dream theme turned off some of the queer camp mates who were very angry with George Bush at the time and decided not to go. Those that did in 2008 still reported having a fantastic time that year. But times were changing. We wanted something new again. (Nathan)
Above images are provided by Nathan with his submission to the site. We will try and have all of them noted and annotated with their sources.
2001
Jiffy Lube Art Censored in 2001

"Jiffy Lube*" Incident
*The use of Jiffy use of Lube name should not be confused with the oil changing company, but this is the name used at an important point in Queer Burner history when an artist on playa felt like he was being censored by law enforcement authorities. This turned out to be a huge ordeal. This was information given to me directly by the artist that was affected. (Toaster on Sister Porn)
Note in the picture to the right that Larry Harvey is seen addressing the crowd as shown in the video (linked above in about the 2nd or 3rd video of the 3. They are all together on YouTube and are worth seeing for history minded people. (Toaster)
2006
Mario Cisneros who was part of Moonbow Camp and responsible for the Gay Burner Official Meet and Greet stared:
The Black Rock City Gay Pride Parade that met at the man and would be a tradition for years. (post about Pride)
The last Gay Pride Parade was in 2014 that was successful and still done in Mario's memory since he died suddenly in 2012. (Toaster)
2007
Camp Beaverton (Home for Wayward Girls)
the destination for queer women at Burning Man. (campbeaverton.org)
2008
A network was created called "Gay Burners" to promote the networking of gay people who were part of this enormous Burning Man culture. It first came into being December 2008 as an idea by Toaster (currently leading Sun Guardians) with support from community leaders like Kitten (Comfort & Joy) and Bucket (Camp Beaverton). It became "Queer Burners" in 2012 in an effort to appeal to a larger audience in the LGBTQ++ targeted audience.  (T0aster)
2009
So if we follow some of these strings to this point we see where some people who were among the first out and participating queers on playa are still there physically or in spirit. People who eventually formed the Mudskippers started from those early roots, subsequently with Camp Stella, AstroPups and Vietnamese Iced Coffee Experience (VICE). Quixotes Cabaret  is still out rocking it as of 2017 as well. There is longevity in these people. (Toaster)
Mudskipper Cafe
grew out of the huge collective "Avalon Village" from what was the camp known as UT or "Uncharted Territories". The 2009 Burning Man theme of "Evolution" was appropriate for the change, and the name "Mudskippers" represented the fun little creatures that evolved from water to land roamers. So like the Mudskipper taking its first step onto land from water, the Mudskipper cafe took its first step to being an entity in itself. (Nathan)
Gender Blender
The first started as a response to a lack of safe space for gender non-conformists both on and off the playa; as well as a desire to celebrate those wonderful identities… giving genderqueers, gender variants, and trans people a place to just be themselves.

the camp was placed on the Esplanade and was forced into culture shock on their first year on  playa
in 2010 GB came back in partnership with Camp Beaverton and were CBGB until they eventually broke into separate camps again. (gender blender web site)

Down Low Club
Originally positioned elsewhere in the city, the DLC came to the Gayborhood in 2010. It is a casual play space with Sex + ideology catering to hundreds upon hundred of people annually.  (Toaster based on info from Catcher)
Fun Fact: Jiffy Lube came back one more time in 2009 on the back side of Comfort & Joy as 'Spiffy Lube'. (Toaster)
Gayborhood
2009 to 2015 there was a growing awareness of camps and their importance of having each other close so we could create spaces that were safe for people who were vulnerable. Burning Man was suddenly becoming a place that was not safe anymore. 2009 had upwards of 49,000 participants and following the ticket debacle of 2012 suddenly those numbers were growing quickly. People had more access to more tickets and regular attendees in many ways felt unsafe. These issues were brought to the Burning Man organization in 2016 and since then there have been some important changes but thee have also not been. (Toaster)
Camps of the Gayborhood
Comfort & Joy (2001)
really get the most recognition because they went back to the days of Avalon Village when they first appeared as: "The Octopus Garden of Comfort & Joy"
Mudskippers Urban Decal Cafe (2009)
Vietnamese Iced Coffee Experience (2002)
Quixotes Cabaret (2003)
Celestial Bodies (2008)
AstroPups (2003)
Camp Stella (2005)
Camp Beaverton Home for Wayward Girls (2007)
Gender Blender (2009)
GlamCocks (2010)
Down Low Club (2008)
Of course over the years the list of queer and queer friendly camps has exploded, but the ones listed above still go strong and evolve fervently as the demands of Placement have become more demanding. Leaders from these camps actively engage the community and participate in the community at large while fighting Burning Man for our safety still. For a complete list of camps and their links CLICK HERE-tba. (Toaster)
2012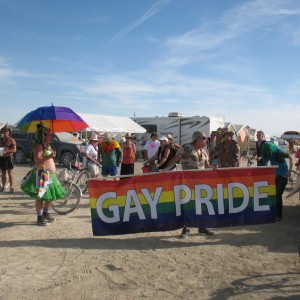 The year Burning Man lost their shit. The ticketing system was changed to a lottery and with that camps could not get tickets. No camps – no Black Rock City. It was also the year for "Jumping the Shark" where people all over the world were being introduced to this major life changing event in the dessert and one horrible truth started to seem more real: was Burning Man becoming commercialized? In the end with the ticketing problems, Burning Man recovered and handled the situation flawlessly and promised to do better next time. (Toaster)
Toaster went to the Burning Man Global Leadership conference voicing concern for the safety and well being of people who felt threatened at the event; women, gender non-confirming and people in transition did not feel safe. Andie Grace (a BMorg employee) fought back in an open forum saying people were responsible for their own safety as stated on the back of their ticket. But we were talking about personal assault and rape. That conversation may have started people in the community to recognize their was a need for more because in subsequent years changes started happening. Some were grass roots and others were general policy and leadership tones started changing. (Toaster)
The theme was "Fertility 2.0" taking us back to 1997 where the theme left a lot of LGBTQ people asking how they fit in that picture. While it had been fifteen years since the previous version of "Fertility" the theme really failed to resonate.  (Toaster) #facepalm
Gay Pride at Burning Man
Mario from Moonbow Camp started Gay Pride at Burning Man in 2006 and it went strong until about 2014 and since has struggled to find the right person to create it. It lasted 2 years beyond it's creator in spite of efforts by Cather to help keep it alive (Toaster)
Pride at Burning Man fell apart. The energy turned inward as leadership struggled to maintain the status quo with the Gayborhood in the light of on going threats by queer and non-queer Burning Man participants continuing to dismiss the region of the city as a bubble preventing inclusivity. (Toaster)
The BRC Pride Facebook group (link) was created to encourage community participants to step up and bring back Pride to BRC. (Toaster)
2013
BAAAHS (Big Ass Awesome Amazing Homosexual Sheep)
The first large scale queer art car on the playa dedicated to mostly queer patrons and participants hit the playa huge! You enter the art car through it's anus. It also sports two large disco balls as testicles. Facebook Link (Toaster)
2015
Queer Burner Retreat (100 people)
The first of it's kind regional like event focusing on LGBTQ people. Regional events happen all over the world and their nature is they tend to be very hetero-centric and there might be queer people there. This event gives queers the full freedom to express who they are and there are some straight people there. This was held at Groundswell Retreat Center in Yorkville, Ca. It was land run by Radical Faeries and used to be a kids fat camp before the Faeries took over. It allowed attendees from all camps at Burning Man to come together, camp together, eat together and build new relationships. (Toaster)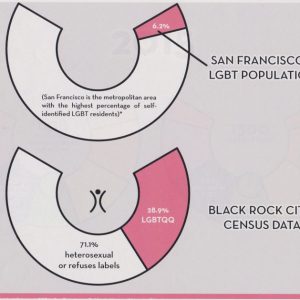 2016
This was the year that the Gayborhood was called into question for several reasons and several leaders in the Queer Burner community were called into the BMorg Offices for a discussion on possibly splitting up the Gayborhood into 2 distinct zones. There were too many camps in the 7:30 sector and BMorg was asking if this was because of queer camps asking for grouped placement.  There is more detail under the #hastag #controversy. (Toaster)
Answergirl had taken over for Retro as head of placement and was trying to find a resolution to our needs as LGBTQ. My suspicion (conjecture based on conversations with Placement people) was that there was a good resource there working on behalf of LGBTQ named Hepkitten who suddenly quit and left the unit in disarray. By mid 2017 Answergirl left the organization in the hands of someone who had never been a placer before so we are still wondering what this means.  (Toaster)
2016 Placement for the Gayborhood was seen by most as being okay, even though we did not have the "Rainbow Road" we had in 2015 and saw camps even more spread out in 2017. (Toaster)
Answergirl defined what that Gayborhood was in the eyes of Placement officially in a statement at the 2016 GLC where she was giving a talk about "burnout" (ironically) that: "The Gayborhood does not exsit so we have nothing to talk about. There is no official anything. People fill out their applications and ask for placement…" which went on to put the weight of figuring this out on camps requesting placement. (Toaster)
There are camps who want to be in the Gayborhood that do not put that in their applications at all. Placement, when asked about a couple camps, were shocked to find out they were a part of the Gayborhood in theory. (Toaster)
Year 2 of the Queer Burner Retreat event went back to Groundswell and had more requests for tickets than we had spaces to take people. We had to look for higher ground. (Toaster)
Queer Burner Retreat Year 2 @ Groundswell (150 people)
2017
The Gayborhood was mostly in the 7:30 sector and we saw AstroPups placed at 4:30 and J well away from most queer camps to their surprise.
The 7:30 sector was helmed by Bravo Placer who, by most accounts, was a pleasure to work with. We still need an advocate to help keep queer camps stay tied together for safety reasons. Trippi Longstalking takes over as Placement lead and Bravo Placer remains the lead placer for the 7:30 sector. (Toaster)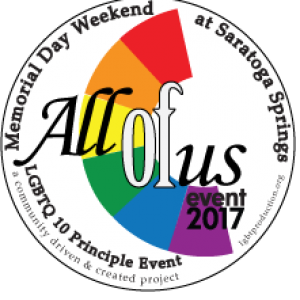 The only regional like 10 Principles event in the world for LGBTQ people and our allies moved to Saratogo Springs  Retreat Center that can handle a lot more people.
All Of Us event 2017 (150 people) (formerly the Queer Burner Retreat)
is re-branded and moved to a site that can handle more people. Again, it was altered to be more marketable and attract and involve more people throughout the community. The Saratoga Springs Retreat Center is the new home of the the event which was also Faerie Land. The production team stepped up it's game in making the space a greater community tool with more focus on larger art. (Toaster)
2018
All Of Us 2018 (150 People [again])
We had the best year yet. The feedback from the guests was that things went generally flawless. The production team struggled internally a lot and in the end we lost a lot of key people.  Our 2nd year at the Saratoga Springs Retreat Center was a win. (Toaster)
2019
A year of big changes! This was the year a new Gayborhood was created in the 4:30 sector with BAAAHS as the anchor camp. While the Nacho Daddies and Burner Buddies campers were still at 4 & J, this new space was curated to manage the growing 7:30 sector into this other thriving area of BRC. This new neighborhood is set to be a new and exciting area for visitors.
All Of Us 2019 was cancelled (details).
2020
The year Covid-19 put Burning Man into the virtual world and a real Multiverse was created. (5/2020 more updates coming)
---
References