Well 2015's Carnival of Mirrors came and went and it was fantastic. Read our official Trip Report for 2015 from this blog.
Carnival of Mirrors featured a Midway that was as superb as the Souk from last year, showing that Burning Man is working on elevating the features of the-man experience. If this is the working model moving forward it certainly brings a greater sense of excitement to the event. It's very marketable.
This year marked some new possibilities for the Queer Burners project and it also a time to re-evaluate and asses where to go forth into the future. Your admin Toaster will be stepping back in some areas and pushing forward in others. In the eb and flow of that energy we hope to see others taking an effort to be a part of the machine.
Events
Our annual list of event seeks to highlight as many of our community camps possible and feature the largest efforts. When Hanging Gardens announced their plan to create an event inclusive for the whole 7:30 sector and beyond the excitement was high. That was before we knew that our placer Hepkitten was going to turn the Gayborhood on it;s side with what was to become Rainbow Road.  What's the right tool for your burn? Get the Time to Burn App for Apple | Android | not Windows 🙁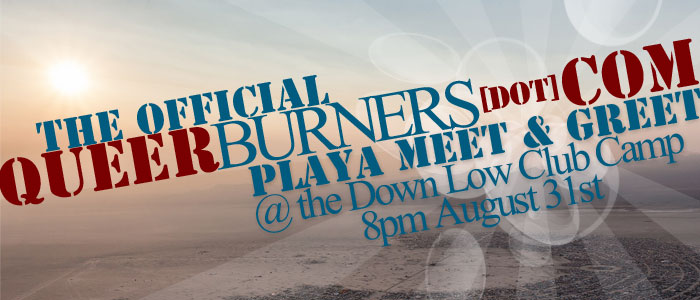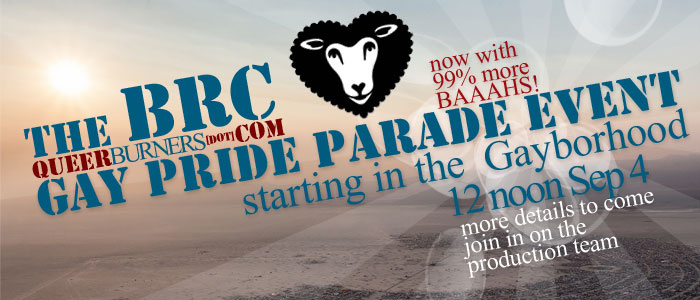 The above events were not nearly as successful in their current formats as hoped for, as they as described in the trip report linked at the top of the page. In the next year, if they happen again, they will not happen in the same form or by the same person leading them.

We also saw our first major regional-like event with participants coming from all over. Spring Retreat brought in 90 people to the GroundSwell – a Radical Faery Land in norther California. With a lot of it's success on the shoulders of producers that came from Glamcocks, Beaverton, BAAAHS, and Comfort & Joy. We had lighting by Steve D and music from the BAAAHS, Polyglamorous and Digital Wildlife collectives.
All proceeds went back into the community and no one made any money on the project. We did pay for some expenses and paid for some services needed to make it work, but none of the producers made a dime from it. We were able to use the money collected to make a gift for the community that was given out in 2015 Burning Man for the first time… and more are coming. See the full report on Spring Retreat here.
Gifting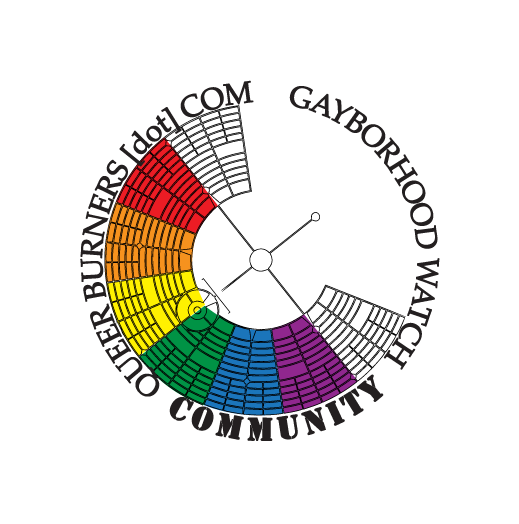 Thanks to the proceeds from Spring Retreat we were able to produce a patch featuring the city (BRC) and the rainbow flag. It is definitely a collector item. The patches first went out to the leaders, doers and makers of the community. Some gifted randomly  to members of the community. But we made enough to give away a lot of them. So stay tuned how to get yours if you want one.
We also gave to the community as a whole. There were a couple small fund raisers out there that we took some of those funds and used to help burner efforts before 2015's Carnival of Mirrors. One of them was to help the Soul Train art car get to the playa.
Leadership in the QB Community
The annual (since 2012) Queer Burner Leadership Summit did not happen in 2015, but at the Spring Retreat Event there was a makeshift attempt to provide a Leadership Lite version of Leadership workshops. It is clear there really has to be a structure and value for attendees in the future greater than in the past.
Toaster did go to the Burning Man – Global Leadership Conference and Regional Summit representing in April 2015. We did ask for 3 passes and were turned down because it would have been ideal to have been joined with Foxy (Beaverton Mayor) and Cyndi Vee (Gender Blender Mayor) if it could have been arranged. The value of queer leaders at the Regional Event is a little blurry because this event generally caters to geographical regions rather than populations of people.
In the last couple years, 2014 and 2015 especially, issues impacting women and other sexually predatory behavior have been making a strong presence in the conversations. This conversation includes the LGBTQ++ community although we are never really named; the focus is usually non-gender specific by leans a lot toward women.
10 Principles
Acculturation is key to be a member of this community. It either comes naturally while for some people never really wrap their heads around the ideas. It is about community. It is about fostering relationships. It is not a weapon.
Using the phrase Radical Self Reliance is not a paddle to smack someone who needs a hand. Community, Immediacy and Radical Inclusion are just as important.
Community is the principle this side endeavors to embody the most and what we work hard to foster in the Gayborhood and beyond.
Camps List 2015
NOTE: This list will grow between now and burn time. Any comments are made random and are intended to be helpful in your choice. All camps are radically inclusive, but some play to a more particular audience. Queer Burners [dot] Com encourages all camps to have diverse members. While not all camps are the right fit for everyone all campers have an obligation to the collective and the health and well-being of that collective, so membership is not obligatory; your request may be denied. Camps returning to Burning Man and their status or recruitment / fees / etc will be linked below.

Gayborhood Camps (P = Placed / NP = Not Placed / U = Pending / V = Village / * = Confirmed for 2015)
To apply to any of these camps or to explore who they are more please follow the links! Note If V / (XYZ) this means they are part of a Village and (XYZ) refers to the village they are part of. None of these camps are Plug n Play Camps.
Type
Name
Address
Taking Apps
Placement
Link
Theme
Queer
BAAAHS Village

* 

Ukn
P
Facebook
Art Car / DJ Collective
Queer
Diva Nation

*

Unk
BAAAHS/V
Queer
Meowtown
Unk
BAAAHS/V
Queer
Mack Hookup Truck

*

*

Unk
BAAAHS/V
Queer
Adult Play Space

*

Unk
BAAAHS/V
Queer
BloAsis Village

*

 7:30 & D
Ukn
P
Facebook
Runway / Bar
Mixed
Wiener Zoo & Pussy Aquarium

*

Unk
BloAsis/V
Facebook
Queer
Bearin' Oasis

*

Unk
BloAsis/V
Mixed
Camp Rainblow Fishy

*

Unk
BloAsis/V
Mixed
The Dead Pirates

*

Unk
BloAsis/V
Mixed
Gaylactic Invaders Village (GIV)
8:15 & D
Yes
P
 Bar / Aerialists
Queer
Homojitoville

*

Yes
(GIV) / V
 Facebook
Mixed
Cirque du so Gay

*

Yes
(GIV) / V
Mixed
Om Bindi

*

Yes
(GIV) / V
Mixed
Time to Burn

*

Yes
(GIV) / V
Queer
Comfort & Joy Village (C&J)

*

 8:00 & D
Yes
P
Facebook / Web
Nightclub / Chill Space / Sex+
Queer
Pink Gym

*

C&J / V
Facebook
Gym
Queer
Camp Montage
C&J / V
Art
Queer
Camp Realness

*

C&J / V
Queer
Water Boys

*

C&J / V
Queer
Tatza Habba

*

C&J / V
Queer
Dust Bunnies

*

C&J / V
Mixed
Celestial Bodies

*

7:30 & D
Unk
P
Facebook / Web
Bar
Mixed
Vietnamese Iced Coffee Experience

*

7:45 & F
Unk
P
Facebook
Coffee Service
Queer
Dickstracted

*

7:45 & D
Unk
P
Facebook
Queer
Camp Conception

*

7 & D
Yes
P
Facebook
Nightclub / Art
Queer
Sun Guardians

*

7 & D
Yes
P
Facebook / Web
Temple / Yoga
Queer
Mudskippers Urban Decay Cafe

*

7:15 & D
Yes
P
Facebook
Smoothies
Queer
Down Low Club

*

 7:45 & D
Unk
P
Facebook
Playspace / Sex+
Queer
AstroPups

*

 6:45 & D
No
P
Facebook
Queer
Glamcocks

*

 7:30 & D
No
P
Facebook / Web
Nightclub
Queer
Camp Beaverton

*

 7:45 & D
Yes
P
Facebook / Web
Classes / Safe Place / Sex+
Queer
Gender Blender

*

 7:45 & D
Yes
P
Facebook
Events / Safe Place / support
Queer
Burner Buddies

*

 4:30 & J
Yes
P
Facebook
Hairy, Hung, Naked
Queer
Bïërdhäüs

*

 7:15 & D
Ukn
P
Facebook
Hot Bearded Men
Queer
Yes, Please

*

No
P
Facebook

Chill space / Sex+

Queer
Milk & Honey
7:15 & D
P
Queer
Disco Chateau

*

3:30 & D
P
Facebook
Queer
Camp Harmony

*

 7:45 & D
 Unk
P
Sexy Dungeon
Queer/Sober
Run Free Camp

*

 7:15 & C
Yes
P
Facebook
AA Meetings
Queer/Sober
Camp Stella

*

 7:15 & D
Yes
P
Facebook
AA Meetings
Mixed
Hanging Gardens

*

6:45 & D
Unk
P
Facebook
Mixed
Paradise Motel

*

7:45 & D
No
P
Facebook / Web

Daytime Snow Cones / DJs

Mixed
Petersons Pink Pagoda (PPP)

*

3:30 & RR
Yes
P
Facebook
Mixed
Camp Get Nailed

*

6:45 & B
Yes
P
QueerFr
Dilated Peoples Eye Spa
No
P
Facebook
Eye Wash
QueerFr
AstroCats

*

 6:45 & D
P
U
QueerFr
Sukkat Shalom
Unk
P
Facebook
QueerFr
Poly Paradise

*

Unk
P
QueerFr
Orphan Endorphin

*

 7 & A
Yes
P
Facebook
Bar
*THIS PAGE IS THE MOST UP TO DATE LIST
Camps temperature may vary and before you go diving into any of them thinking you want to camp because they are already awesome, make sure they are dancing to the same beat as you are. Check out this page about choosing a camp.
Sex+ Camps: these are camps that have a strong sexual dynamic in exploring sexuality and gender identity
(Comfort & Joy, Beaverton, Gender Blender, Down Low Club, Poly Asylum, Poly Paradise)
Spiritual Camps: these are typically somewhat low key camps that have sacred space
(Sukkot Shalom, Sun Guardians)
Niche Camps: usually catering to people of a like-attribute or sub section of the community
(GlamCocks, AstroPups, Camp Stella, Run Free Camp)
It should be noted that ALL camps are radically inclusive but have the right to be selective on who and whom they want to camp with for most reasons anyone else would. Nuf' said… the above associations are subjective and you should explore what camp you want that turns you on whatever they may be.
Glossary
NrQueer: Mostly Queer campers
QueerFr: Queer Friendly
Queer: Basically all queer but not a hard line
Unk: Uknown … which means I do not know…
Under "Placement" if:

Yes: They were registered and placed
No: Not Registered and will be approximate address
Anything else: will typically mean they are part of a Village and the name of the village will appear in this space.
Unk: see above…