Hello 2017 – a year unlike any other. Burning Man announced that "Radical Ritual will be the theme of the annual event. Likewise, this year Queer Burners has reached an all time high with a amazing grounding in our World Wide and Regional Networks; not excluding our Leadership Network and networking resolutions that connect camps to other camps.
2017 Theme for Burning Man : "Radical Ritual" and what it means for Queer Burners
2017 presents "All Of Us Event" on Memorial Day Weekend
2017 Queer / Queer Friendly Camps
Radical Ritual at Burning Man
"This year's theme is an attempt to reinvent ritual in our post post-modern world. For this purpose, we will disregard assertions of belief and concentrate instead on the immediate experience of play. Beliefs contain, define, and limit meaning. They can reduce truth to a rational commodity. But play can free us to envision truths of which we have no proof or warrant. Such play, as we conceive it, breaks down the distinction that divides belief from make-believe. Whole-hearted and creative play induces self-surrender to experience that is beyond the scope of reasoned thought." – Burning Man [dot] Org web site.
What does it mean for Queer Burners? It is a chance of endless interpretation and members of the community are encouraged to share their expressions or ideas of what it means in the comments section at the bottom of this page. Ritual is more than religion or marriage; it is all those things in between and more. Simple rituals include shaving and styling hair before work every day. Sometimes it is a mating ritual as in dating or maybe a dark room behind a bar? What's your story?
All of Us Event
A regional style event that is not officially sanctioned by the Burning Man Organization. All Of Us is the only LGBTQ focused event of its kind of the world. The audience is the LGBT community and our allies. 2017 marks the first year it was branded as All Of Us event from the previous two years where it was known at the Queer Burner Retreat.
Learn more about this event at:
Queer / Queer Friendly Camps List
We have a listing of camps that started this year for camps coming to "Radical Ritual" 2017. This year we asked camps to submit themselves. Below is a list of camps that submitted themselves. Then find the form for camps to complete the form to be added in a future update to this page. We also listed camps who have been listed in the past with notes that will change as information changes.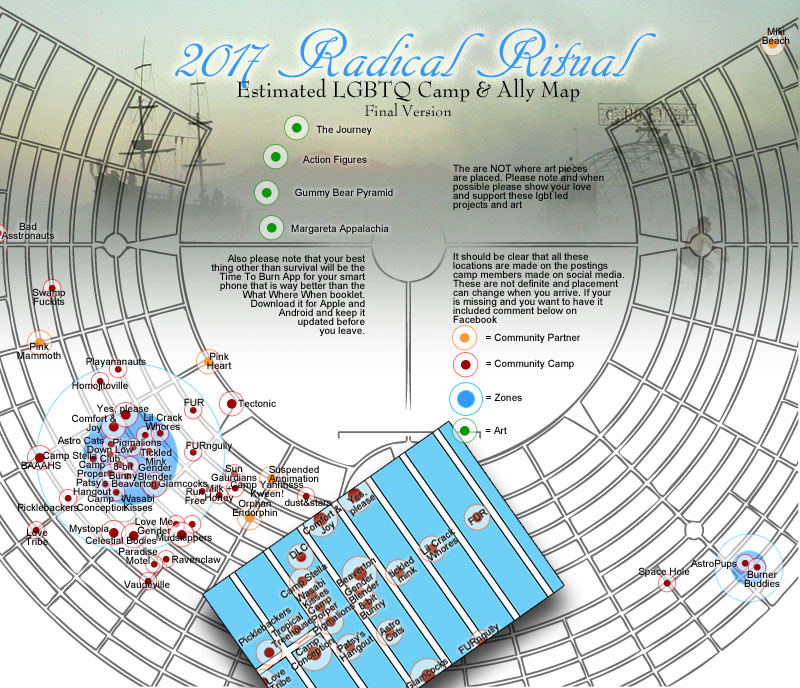 | Camp Name | Years | Identify | Links | Applications? | Camp Fee | Meal Plan | Showers | Placed Camp | Placement Request |
| --- | --- | --- | --- | --- | --- | --- | --- | --- | --- |
| Black Rock Gladiators | 4 | LGBTQ | facebook.com/blackrockgladiators | Yes | Yes | Yes | Yes | Yes | GayborVille 7:30 Sector |
| Bubble Lounge | 19 | LGBTQ | Facebook.com/randpate | Yes | Yes | No | Yes | Yes | |
| Celestial Bodies | 17 | LGBTQ | https://www.facebook.com/groups/350434520628/ | Yes | Yes | No | n/a | Yes | GayborVille 7:30 Sector |
| FUR | 8 | LGBTQ | furryburners.com | No | Yes | No | No | Yes | |
| Land of Monkey | 6 | LGBTQ | https://www.facebook.com/thelandofmonkey/ | Yes | Yes | Yes | Yes | Yes | GayborVille 7:30 Sector |
| Paradise Motel | 11 | LGBTQ | http://desertparadise.org | No | Yes | Yes | Yes | Yes | GayborVille 7:30 Sector |
| Some Bunny | 0 | LGBTQ | None | Yes | Yes | Yes | Yes | Yes | GayborVille 7:30 Sector |
| Tickled Mink | 3 | LGBTQ | https://www.facebook.com/tickledminkBRC/ | Yes | Yes | No | Yes | Yes | GayborVille 7:30 Sector |
| Yes Please | 14 | LGBTQ | https://www.facebook.com/groups/120420311355626/ | No | Yes | No | Yes | Pending | GayborVille 7:30 Sector |
| Remote Control | 3 | Gay / Male Identified | http://www.campremotecontrol.com | Yes | Yes | No | Yes | Yes | |
| Astro Cats | 8 | Ally Camp | https://www.facebook.com/groups/Astrocats.2014/ | Yes | Yes | No | Yes | Pending | GayborVille 7:30 Sector |
| BuddhaCamp @ the Lotus Dome | 12 | Ally Camp | Http://www.buddhacamp.org | Yes | Yes | Yes | Yes | Yes | |
| Champagne Lounge | 10 | Ally Camp | Facebook.com/champagnelounge | No | Yes | Yes | No | Yes | Rods Road |
| Cornstars | 2 | Ally Camp | None | No | Yes | No | Yes | Pending | 09:DecDec |
| Date to be Rare | 4 | Ally Camp | http://www.daretoberare.rocks/ | No | Yes | No | No | Pending | |
| Entheos | 3 | Ally Camp | http://www.entheosrising.org | Yes | Yes | Yes | Yes | Yes | |
| Fancy Flamingo Society | 10 | Ally Camp | None | No | Yes | Yes | No | Yes | |
| Gymnasium | 4+ | Ally Camp | www.gymnasiumburningman.com | No | Yes | Yes | Yes | Yes | GayborVille 7:30 Sector |
(Glossary and notes: these are only the camps who have asked to be posted on this site. For a longer list of camps with an approximation of their status go to the bottom of the page. TC/V = means are you a Theme Camp or a Village? Address = is approximate or assumed unless Placement has provided specific information. Apps? = Are you accepting applications?)