Well, that happened! May 27th to May 30th at the amazing GroundSwell Institute in Mendocino County in California 150 people of various genders / races / sizes and outlooks gathered for the 2nd year to celebrate a community unparalleled.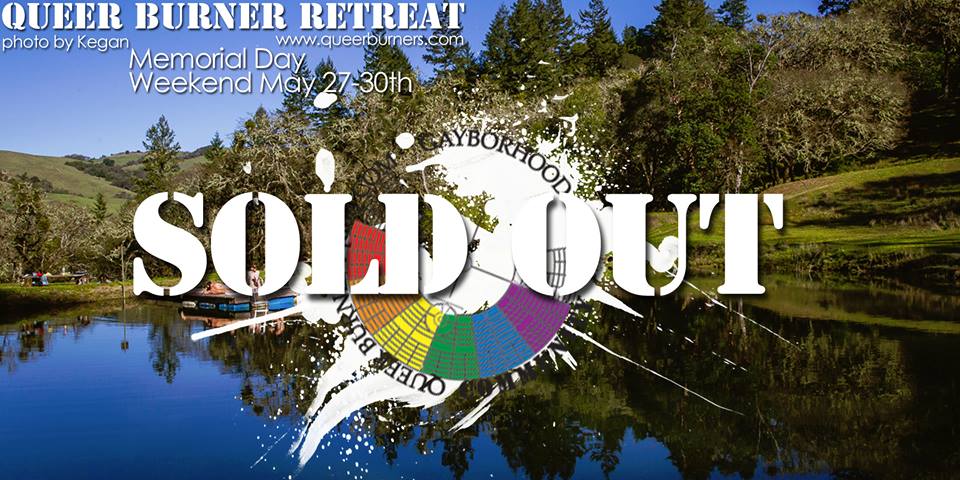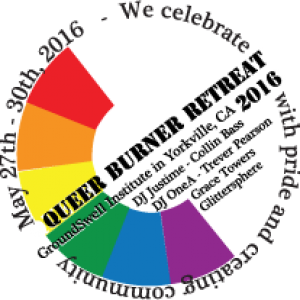 We were blessed with a curated effort to exhibit the best diversity and creativity our community had. We had an amazing workshop on inclusivity among others that was a lot of fun, What it means to be a Ranger, Burning Man Acculturation and Playa hat making.
Over the course of the weekend we also had 5 parties; 2 day time and 3 night time. Plus yoga plus some other community driven, spontaneous events that popped up along the way.
Friday Night : Camp Fire hangout
Friday Night: Justime's pop-up party in the circle room
Saturday Night: Blacklight Forest Party
Sunday Day: Swimming Hole jam
Sunday Night: An evening of gayborhood talent and the ensemble cast of Glittersphere hosted by the one and only Grace Towers!
FOOD
We were treated with a huge amount of the best food that could be imagined by Jose Coral from Cancun, Mexico. He kept us all stuffed every day with his amazing support team and many volunteers who helped create the magic. Special thanks to Jarrod for the pastry items including cinnamon rolls, a great chocolate cake and biscuits.
FACILITY
GroundSwell is absolutely fantastic in almost any sense of the word when it comes to being a place to host an event. They have grown so much since opening in the sense that it is a space that has steadily matured. The work to improve over the last 6 months has been phenomenal. A few problems have plagued the location but the staff did their best to accommodate and try and make up for a few cracks.
We ran out of gas to the kitchen, which thankfully we found out before it interrupted a meal. The plumbing was once again a little dodgy, but everyone survived and there were no outages. The staff suggested porta potties which save on the plumming, but next time we will strive to get more little poop booths.
Every day was bliss and beauty. Staff was there to hep when needed and we had an amazing time. We invited the GS team to join us for dinner and our events and were glad they joined in.
BUDGET
The original hope was to come out with enough of a positive that we could invest the money in other Queer Burner Projects. We will start looking for a way to fortify those option in the future. Basically this project just broke even.
| | | |
| --- | --- | --- |
| Food |  Sweet / Savory / Mixers | $3,850.00 |
| Transportation |  Car rental & gas | $500.00 |
| Entertainment |  Decor, Glittersphere | $800.00 |
| Petty Cash | | $600.00 |
| Fees |  Eventbrite | $550.00 |
| Land (Includes Insurance) | Rental | $6,000.00 |
| Staff |  Chef, Pastry, DJs | $3,700.00 |
| |  Expenses Total | $15,000.00 |
| |  Income | $14,000.00 |
| |  Remainder | -$1,000.00 |
Summary
There were a lot of successes in the financial aspects of our event, among them is the virtual break even of expenses versus income. The original goal was to be left with a positive cash flow of $4k to cover some social treats for the community at DaVinci's Workshop this year, pay for an official legal status for Queer Burners, and the rest toward a down payment for the location for the 2017 QB retreat.
The food budget was more than doubled, but our attendees were almost 40% more than the previous year. The food production was off the chart with an amazing chef who was already invited back for next year. We did managed to feed everyone with very little waste with a line for the buffet that was longer than ever seen at this facility.
Paid staff: we had a few people who were paid in their roles. The amount offered was openly negotiated with each person with full knowledge that no one was making money off the event; all other funds were folded back into Queer Burners if extra.
The organizers donated all their time.
Performers were also paid in advance and did an excellent job.
We did have regrets from 1 person asking for more money post event.*
All costs were reimbursed when asked and receipts presents.
Petty Cash:
Moneys were used to pay for 2 community members to attend the Burning Man Global Leadership Conf
Moneys were used to cover meeting meals in rare circumstances where business about this event too place
Moneys was used to cover some meals by paid staff being transported to the site (The Chef)
Transportation:
Moneys were used to cover fuel expenses for some people ferrying people / supplies to the event
Moneys were used for a rental car to site visit for the 2017 #QBRetreat2017
Attendees:
Less than 5 people were invited to the site as VIP's and guests of the event.
35 Cabin Sales @ $150
70 Tent Sales @ $100
7 Supporter Sales @ $200
7 Special Access Tickets @ $50 / $55
17 Paid Staff @ no entry fee
Our diversity and gender / racial / age diversity was optimal. Our theme this year was Inclusivity and the attendance numbers and statistic bear a level of success the producers are very proud of.
Things we can do better next time:
Better pay for kitchen staff
More staff for kitchen and dining room operations
Better ticket management system
To Michael "COOP" Cooper, Russ Smith, Cyndi Vee and the amazing "Foxy" Fox for their help on this project and other past projects. To an amazing team of volunteers thank you for making the 2016 Queer Burner Retreat twice what it was in 2015 and for looking ahead to what is yet to come. Thank you Indigo, Shaul, Dare and Pretzel, Foxy, Adam and Justime for coming to meetings and making this actually happen. SURVEY RESULTS
Banner from the events over the weekend:












*Post Event Regrets from 1 Staff
1 staffer approached Toaster complaining he was not paid fairly. This does highlight where we could improve things in future years by having a clear contract with staffers and stay away from local amateurs; an agreement was in place, but both parties were not of like minds. The organizer was under one understanding based on a text conversation and the provider party said there was never an amount discussed.
In 2016 we have a similar problem (also a local amateur) hiree was supposed to have help who failed to show. He did not complete all his meal services but still was paid in full. He also took on the job of cleaning the site and was given most of our deposit by GroundSwell.
In the future we need all agreements in writing with statements for penalties for failing to perform and better definitions of what the scope of performance requires.