Do you know his birth name? For so many years he has been simply known as Chickpea. But in recent years we have been introduced to another persona that stemmed from the soul of the man: Amber Alert; yeas hunty has a drag(ish) persona both lovable and disturbing.
He is one of the leaders in the theme camp Comfort & Joy that started at Burning Man in 2001 (See Burner History X for more) but Chickpea first year was 1996 and he showed up without a tent.
"my first year was 1996 i went with my good friend Damien Grey, we didn't bring much not even tents just a tarp to put over the car to sleep under , sandwiches and popcorn for meals …. its kinda a funny story"
He joined Comfort & Joy in 2002 at the encouragement of his close friend and today is the President of the Comfort & Joy board known as the Purple Circle. He is also responsible for all the neon decorations you see on playa and at every Comfort & Joy event including Touch and the Afterglow Parties. Yes, she makes the magic happen.
"…my first year was 1996. That was the year Helco happened. When we arrived in the desert we asked a girl where Burning Man was. She said drive six miles that way and turn right, go another 2 miles… we came upon 20 grand pianos stacked together with a guy playing one. We asked if that was Burning Man… he said no, it's two miles that way…" [paraphrased]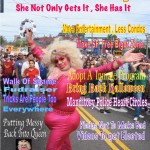 Then there is Amber Alert. She came into being around 2013 and family members emerged from dark alleys, cracks in the soil and some place near the bowels of hell. LOL. One of the most disturbing sibling was Playa Hole.
Above all else Chickpea (Brian) is a solid and engaged member of the community with a passion for art and creative endeavors. He has a huge aviary (yes, for real) in his home filled with small birds he cherishes and cares for. He is active with the Radical Faery community and extremely supportive of fellow creatives naturally drawn to him.