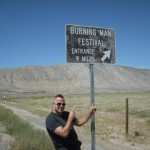 So, @Craig inspired me to write a quick post. I am also managing to avoid doing some work I reallllllly need to be doing.
I drove to Burning Man with @ButchPirate (another member of this site) and it was a great trip. We arrived in Gerlach by mid day on Sunday, bound for the front gate. To our shock (2 newbs) we were unable to get in even though we were part of a planned Village. No problem, we planned for plan b, because I had a 5 gallon Home Depot jug filled with crappy orange drink and crappy vodka ready to share.
Before I go another step further, let me tell you I did a lot of reading and prep before my trip. I may have done too much, but one of the best resources was Tales of the Playa by OhTony which I have posted on this site below. There are 4 parts you must see.
Burner: Tales from the Playa – Part One from Tony Edwards on Vimeo.
Basically he said, go with no expectations. When @Craig (new member on GB) wrote "I made a decision before driving up that I would spend a week not judging anyone, about anything. Everyone I met was the same, be it man or woman" I thought to myself, yes. Yes, that takes it even a step further.
I did not expect sex. I eliminated expectations of partying and how people would embrace or deny me. I eliminated almost every expectation except one!!!! The one that bit me in the ass!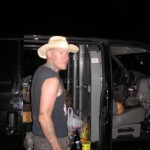 So, I digress. We arrived at the gate too early, so we drove back to Gerlach and spotted a lonely cowboy kicking back at a van and he told us his story. He voice was rough like broken glass and his style was cowboy rockstar who just finished his first joint. We parked close by and pulled out the 5 gallon Home Depot jug filled with crappy orange drink and crappy vodka. Gradually people started gathering more and more and we were dishing out every drop of rot gut we had. My co-host Butch Pirate was awesome.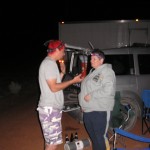 5 minutes to midnight we jumped in and drove 9 miles to the front gate, arriving in line at 12:02 am Monday morning. I saw purple l.e.d.s arching through the sky. We made dirt angels when they discovered we were virgins. We were warned about narcs and being good citizens. We were thrilled….
On the way in, 100 meters to the left was a shuttle craft from the Starship Enterprise* ghosting us on the way in. Camp was easy to find. We were part of Sin City Village at 7:00 and Esplanade. 1:05 am we arrived and Butch went to set up her camp while I wandered into our dark village to see what was going on.
Part of our camp was Party Naked Tiki Bar. It was also dark, but a Las Vegas community member was sitting there clothed and in a cape talking to a tall, lean, and albeit sexy hippie boy who was called Faun. Faun was naked and drunk and the first person I saw upon arrival. I was drawn to Faun and their was an unmistakable reaction to my interest in this sexy hippie. Ten minutes later we were getting to know each other very well in the back of my car.
Thank you Burning Man.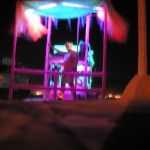 I spent so much time on Bam Bam's art car; a mobile strip club with neon carpets and padding with black light. I rolled my balls off at Opulent Temple and found wonderful things at Comfort and Joy. Every day was a social and visual thrill, both arousing and stimulating, at Center Camp with my daily coffee. Every night was a new adventure, dancing, staying with my community and meeting so many more people.
What was funny was running into people by chance I knew even in that whirlwind. Seeing my Utah homies at Basecamp, meeting DaBomb at center camp from L.A. Burners, running into other Vegas burners in the middle of the dirt by chance who I had no idea were there at all. There is magic out there.
My only expectation that went unfulfilled and left me a little wounded was… the dream of finding that someone special out there; an emotional connection of a different kind of magic. I thought I found it in the eyes of at least 3 guys here and there. Alas, no. But I would not change a single passing moment. It was perfect for my first time being out there.
*The shuttle craft turned out to be driven by people who are now friends and who had moved to Vegas in the last year. LadyMurv and Leslie (I don't know his playa name) are now friends here in Vegas and I got a huge laugh when we realized that they were the first art car I saw upon my arrival.
Footnote: it turned out not to be a quick post… I encourage anyone who wants to to let me know they want to write something too like this!