2023 Queerburners Event Guide – Download PDF (29.6MB)
If you are planning an event for Burning Man that will be of interest to LGBTQIA+ burners, you'll want to know about this. This year, Queerburners will be distributing a downloadable, printable guide to all the queer events and camps on playa.
You might have seen the version that was available in hardcopy at the Future Turtles camp bar in 2022. This year, it will be expanded and made available to everyone, with the goal of including all the scheduled LGBTQIA+ programming. There are some requirements and deadlines for all of that detailed below.
First step, if you haven't already, please register your theme camp at the Queerburners Camp Directory on www.queerburners.org/directory ASAP. This is a great resource for people looking to connect with Queer camps and find their tribes while burning. It will lead to new and amazing campers you might not have found otherwise, because Queerburners is the #1 resource that shows up on any search when people look up Burning Man and LGBT.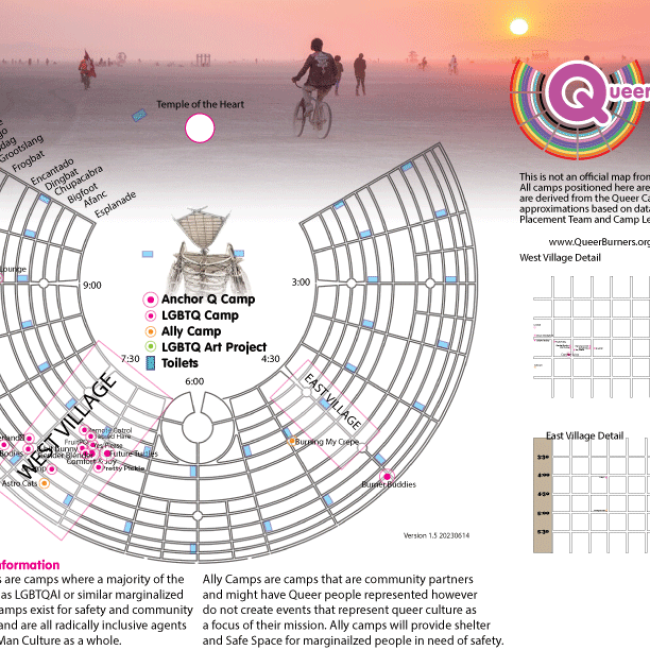 What defines an LGBTQIA+ Camp or an Ally Camp?
LGBTQIA+ Camps have a majority of these marginalized groups that include, but are not limited to, the letters of this age-old acronym. They are often part of the Queerborhoods of Black Rock City. LGBTQAI Camps are camps where a majority of the camp identifies as LGBTQAI or similar marginalized people. These camps exist for safety and community representation and are all radically inclusive agents of the Burning Man Culture as a whole.
Ally Camps are camps that are community partners and might have Queer people represented however do not create events that represent queer culture as a focus of their mission. Ally camps will provide shelter and Safe Space for marginalized people in need of safety. How do I submit my events to get into the guide?
First, you have to submit your events to the WHAT, WHERE, WHEN through Burning Man's official Playa Events site. They are accepting submissions from June 22-29th only.
Although most events submitted there will not make it into the What Where When printed guide, due to lack of space, we will publish all LGBTQIA+ events that you submit in the Queerburners Events Guide.
How do we know what's an LGBTQIA+ event? We will include events that are at any camp in the Queerburners Directory, but not at an "Ally" camps because those events are probably not queer focused. In addition, any event that is marked as an LGBTQIA2S event in Playa Events, no matter where it is held, will be included.
Behind the scenes, Burning Man has a cool API that we use to get a complete listing of all events, and this is where we'll get your event information from. This is the same data that the Time to Burn app uses.
Where do you get a copy of this guide?
The Queerburners Event Guide will be distributed publicly as a PDF that you can print at your convenience. This will happen in August. Watch for our August newsletter for the announcement.
What about the fancy Queerburner Map I have been seeing around?
The Map will be included in the guide. There will be a chance for you to download the full color version and print it separately as well. How do you get listed on the map? Get in the directory!