May 12/2009

Toaster notes: This was a sculpture in front of Comfort and Joy last year. It was awesome because I arrived late into the night (early moring) and came across a young cross-dresser trippin on something laying under it. It was just fun.
---
May 2010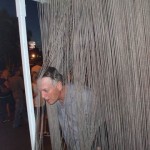 Larry Harvey made an appearance in Las Vegas at the monthly First Friday art festival. It was a distinct pleasure having met him. Every month on the fist Friday of that month Las Vegas comes alive in their huge Arts District. It's so huge many people have no idea it exists. AND it is permeated with Burners! -shocking!!!
Your admin is a member of the Las Vegas Burner community and has been for a year and a half. I assume it is as warm and special as your own community. Feel free to post an article and share!