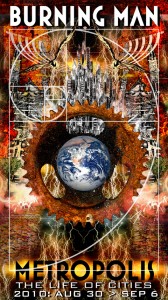 The event Metropolis was the 25th anniversary of this experience. It has changed, greened, evolved and mutated to what it is today. For many burners this was an epic moment of inspiration and release that sent us back into the default world changed. The economic crunch of 2009 and the 11% shortfall of attendance was surely surpassed; we anxiously await the After Burn Report for the details. It is vital to keep this thing alive, especially after all the majestic beauty and energy this year.
Please feel free to upload your BM10 images to this folder and share any stories in the comments section below or in the notes of each image added.
Critical… what?
What came first? The chicken or the egg? Or was it tits or dicks… yes that is right there are 2 events on playa where one is called Critical Tits and Critical Dicks. Both are parades of people who have decorated their assorted bits and pieces and travel all over the BRC.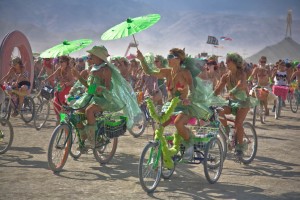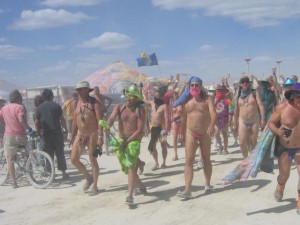 This Burner has not been around along to tell you which one came before the other, but I have this odd feeling that Critical Tits has something of a longer (excuse the pun) history than Critical Dicks. Both look hugely entertaining and fun! [more…]
Burgins or Birgins?
So, officially there is a new word for those who are making Burning Man for the first time. It sorta makes sense: "Burgins". Burning Man Virgins… but if there was a better year to come for the first time this is it. 25 years of Burning Man!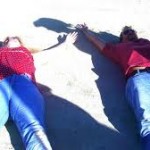 So, what is your plan? Have you reviewed all the lists on Burning Man.Com and ePlaya? Have you nested with a Burner Veteran for advice? Or are you a person with at least 10% alkali in your blood and dust caked up your nose?
There has been some good advice on this site and a lot of good resources. People wishing to remain with LGBT camps have quite a few to choose from on this site. Make friends, build bridges and let's all meet up at Moonbow camp or Camp Beaverton or wherever for good times. Burning Man is a place unlike any other experience you will ever have. It will change your life.
"Dear Burgins, everyone had their first year. Everyone understands and most will help you along your way. May the wind be at your backs and your party be on. May you walk away changed and blessed and enlightened. Bless you all…"
Your profiles have a place to list where you are camping, but let's use chat, Groups and Forums to exchange information. Be sure to get a copy of the printable events list linked in the left column and take it with you. Bring a copy of the city map and make notes where your friends and future friends are going.
Queer DJ@ BM
One of my friends is DJ'ing for his virgin year at a few camps that will be top notch! Here is one of his soundcloud tracks. Check out DJShifta.
OFFICIAL Dj Shifta- TOAST 2010 [Day Mix] by Dj Shifta Find him @
Cosmic Dust Camp – Superheroes v. Villains Party (linked on LVBurners.Com)
Black Rock Syndicate
Sex @ Burning Man
Sexuality and Burning Man… people outside of BM have often described BM as a place where people to get all fucked up and run around naked. Essentially, that wraps Burning Man up in a nice neat cloth for them.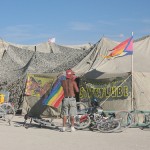 My arrival to Burning Man for my 2009 virgin year came with a warning from OhTony: "If you go to the playa expecting to get laid you will not"… of which I took to heart as well as working on eliminating any other expectation as noted in one of my recent blogs.
Sex, in a way, is another form of self expression. Some people express themselves [more…]
Grilled Cheese v. Bacon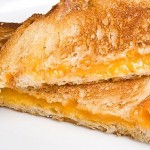 v.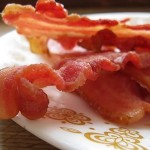 Which is the more distinctly BURNING MAN knosh? Is it the battle of the ages, or the indulgence of the most glorious kind; especially after being out there in the desert for 8 days or whatever. There are whole camps and features dedicated to both, we need to have them meet in the THUNDERDOME!
It only seems like the most logical solution for this battle, because voting would never work. Certainly it would be a 50/50 scenario! What do you think?
Grilled Cheese V. Bacon
Ultimate Evil: Both Together (59%, 19 Votes)
Grilled Cheese (28%, 9 Votes)
Bacon (13%, 4 Votes)
Total Voters: 32
---

Loading ...
Do you feel the rhythm of the Night?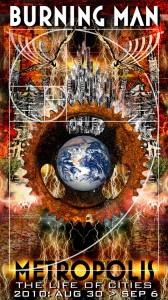 The clock is ticking rapidly as summer become deeply rooted into our Northern Hemisphere lives and we look ahead to METROPOLIS: The Life of Cities. If you are making it this year, you get to experience the 25th anniversary of the event.
In not so many days the mighty gates will fly open, dust angels will be created, and the welcoming jams of a hundreds sound camps bid you welcome.
VIRGIN??? Is this your first year? What an amazing year to make it your first. Do not complicate your trip, do not go with expectations, but arrive with a sense of adventure and an open heart. Embrace and participate in everything you want to, but be a part of it!
VETERAN? Over the years the event has changed so much. Not so long ago the camps were spread out and not so packed in. Hellco brought theater. Halcyon brought Hug Nation. And there once was a place called Jiffy Lube.
For all your preparation needs Burning Man.Com has all the survival material you could possibly need. Check it out and be sure to find your regional group and get to know other burners if not already involved.
Where the Streets DO Have Names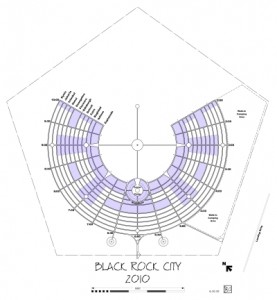 This week Burning Man released the names of the streets as well as the locations for many of the camps. Though, the address list is not general knowledge yet, talk to your camp leaders to see if they know. Unless you are camping on your own.
In 2010, the circular streets are named: Esplanade, Athens, Baghdad, Cairo, Detroit, Edinburgh, Florence, Guangzhou, Hanoi, Istanbul, Jakarta, Kyoto. Road circling Center Camp: "Ring Road" [source]
What Where When
So many things are going on. Some have been posted right here on Gay Burners.Com. Will work on posting more, but feel free to send me others to get posted as well.