What makes a theme camp? What gives some of these staying power while others fade? Who is really making a mark on the culture, while who is just producing a glorified camp with friends? Truth is Burning Man is demanding camps innovate and change. Camps that are not evolving are getting placed less and less.
There are 5 standards for present and future camps need to meet (from April 2014 news letter from Placement)
Theme Camps should be visually stimulating, have an inviting design and a plan for bike parking and crowd management.
Theme Camps must be interactive. They should include activities, events or services within their camps that must be available to the entire Burning Man community.
Theme Camps must be neighbourly. This includes keeping sound within set limits, controlling where camp generators vent exhaust, and easily resolving any boundary disputes that may arise.
Theme Camps must have a good previous MOOP record (for returning camps).
Theme Camps must follow safety protocols designed by the organization (this includes traffic management on the streets, proper handling of fuels, and any other areas defined by the organization's production team including alternatives to RV lined streets).
Gayborhood camps might think they have a better chance of placement without innovation or evolution because they are a staple of the area. Some camps have been really setting the bar in their presentation. Another area of note is the friendly nature of the camp; is that is inviting – engaging – interactive? Some camps have made remarkable steps in that area as well.
"Community is the successful result of people coming together for a common goal"**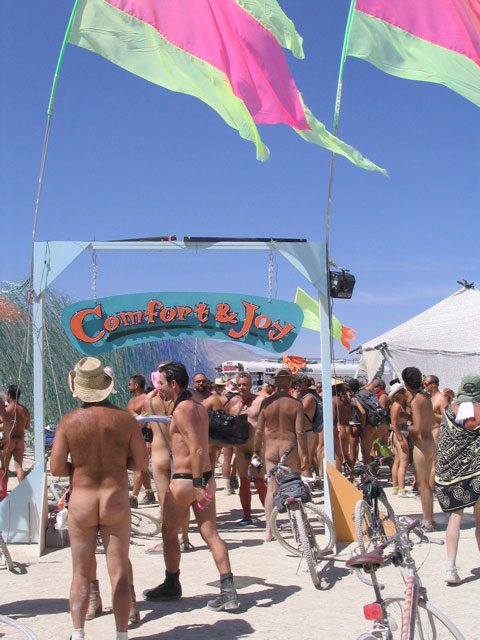 Comfort & Joy has been the epicenter of the Gayborhood for a number of years now. Their neon courtyard created by Chickpea and art pieces by Neon suck people into their space and do not require a lot of direct engagement to make people feel welcome when visiting. They do have fluffers who keep their space refreshed which is an additional welcoming factor of their space.
Over the last few years the camps that have made strong presentations:
Comfort & Joy – Glamcocks – BloAsis – Barbie Death Camp – Paradise Motel – Celestial Bodies – Mystopia
Most improved process of making people feel welcome in their camps:
Glamcocks – Camp Beaverton  – Gender Blender
Camps to watch grow in recent years:
Hanging Gardens – Disco Chateau – Peterson's Pink Pagoda – Sun Guardians
Exciting new camps that brought a lot of fun to the playa:
Cub House -Gaylactic Village (now including Homojitoville)
Gone are the days when the Borg are willing to let camps stay the same. Theme camps have to become more interactive or provide services that make the city more inviting. They can come in many forms from Snow Cones, to Super Hero Parties to Oil Wresting (3 camps had this in 2015).
There are some new subjects coming to light in the 2016 season that have yet to officially be directed, but you can look forward to seeing:
Frontage lighting for camps including day oriented camps
More rules on sound: sound camps in the city
… and more I am sure
Want some help with your camp infrastructure or plans for 2016. Well, we have news! There is going to be a Camp Creator summit coming to the Bay Area in 2016 where camp leaders, vendors and builders can get together. It will be called LiSP 2016: Leadership in Silly Places. Stay tuned for announcements and ticket sales.
Working together and networking is a good way to up your game for 2016. The baseline is higher now. The good thing is that Placement is keeping us all on the ball with their mailing list. Get on it by contacting Placement through the web site or emailing placment@burningman.org. You will be automatically added if you submit your Placement Application in April 2016.
**source quote unknown
Banneer Image from Toaster
2nd inset image for Comfort & Joy unknown