As mentioned in a previous post, there is a lot of reasons that make this year's "Rites of Passage" very inspiring for people to attend. Beside the usually amazing pieces of art, performances and regalia of costumes and production there is much more.
Features
This year features something never seen at Burning Man which is the C.O.R.E. Project that will include 24 additional effigies from various regions around the world; mostly in the U.S.. They will be placed in a circle around the MAN and burned on a night on it's own.
"The Circle of Regional Effigies (CORE) consists of 23 effigies created by Burning Man Regional groups around the world. They will be placed in a ring 600 feet around the base of the Man. These effigies are a celebration of the Burning Man Regionals and their efforts to support the Burning Man ethos as a global cultural movement. Please read about the pieces, so you can understand them better, and enjoy them that much more on playa.
All of the CORE projects will burn simultaneously at 9:00 pm on Thursday of the event." [source]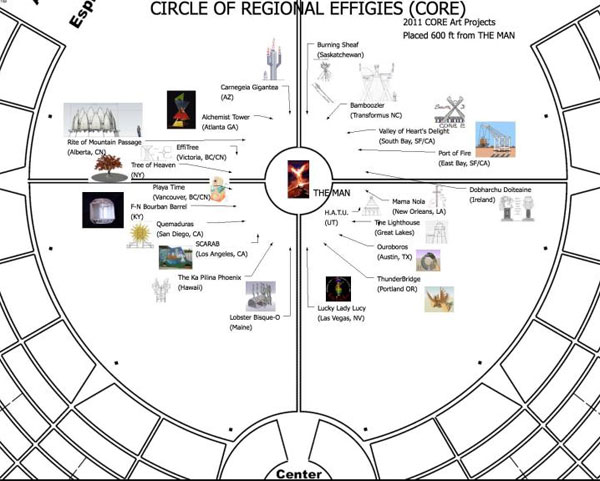 This new feature this year promises to bring a whole new dimension to the Burning Man Event for 2011 unlike any other.
The Temple
The Temple has always been quite an expression and a very special marker for the event since it is burned as a conclusion to the week's event. The Temple of Transition with it's six spires takes over a huge chunk of real estate out there and is expected to be a true beauty! It is physically being brought to the playa as I type this out.
Motivations
How many people have posted on Twitter and Facebook that it was a checkbox on their 'bucket list' to attend Burning Man in their lives. I guess "Rites of Passage" screams to those people as if it was a calling to them specifically. If this is on your Bucket List, please buy a sports car and hire a hooker instead. Maybe go to Amsterdam! Wait – those are my bucket list items.
Maybe you keep swallowing the rumors that this is Burning Man's last year and you need to get on the crazy train before the train closes. The rumors about 2011 being the end were being cooked up fast and dirty, but the future of Burning Man is not projected to end anytime soon with the immediate re-origination of BMHq; they are going from an LLC to a non-profit.
Conclusion
All in fun and good humor, whatever your twisted reason for being drawn to the desert be sure to do it smart! Water: Piss Clear! Food: eat smart and take care of your own ass! Dust mask: check. Non-vented goggles: check. Completely open mind: __________.
Hit for your week: Pick one day and no matter what is asked of you the answer is Yes.