What was your first year at Burning Man like? Following up our week of Acculturation posts lets see what some people experienced on their blogs out there:
---
Last year I attended my first Burning Man festival and had the most insane time of my life. I have never been surrounded by so much creativity and enthusiasm, and as a photographer/videographer I was highly inspired to capture the festival from my own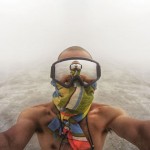 unique perspective.
The whole week felt like a really trippy, lucid dream, and through the use of experimentation and photo-editing, I attempted to express my thoughts and feelings into each photo.
Burning Man truly is a one-of-a-kind festival and I really hope to return this year.
---
Two weeks ago, I made the decision to attend Burning Man for the first time. I had been making excuses for years on why I couldn't go ("it's too expensive," "I don't have goggles," "techno isn't my thing," "my costume wardrobe is kind of lame," "The New York Times says it's played out — the techies have taken the playa over worse than they have taken over the Mission," "I don't own a CamelBak," etc., etc.) but this year I finally bit the bullet. Instead of putting it off for the future, I finally accepted the time to go was now. A friend of mine passed away recently and his death has made me realize how fragile life is, how impermanent we are, and how little time matters except for what we are doing right now.
---
I went to Burning Man for the first time in 2012. From the moment I decided to go through my return to the "default world", I felt compelled to photograph and write about the experience.
---
ADMIN: Just a few stories from the interwebs and hopefully making the days to come easier.