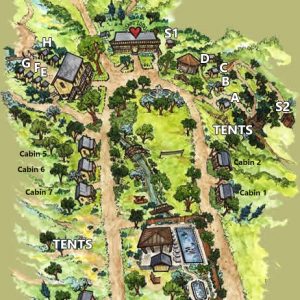 So if you check the feed you will see a few changes to the site including a few pages added to the over all program. Got a little behind as the Burner season was chilling out and started working on other projects. Never too much time to watch mama's stories and eat bon-bon's because sissy got stuff to do. Like ALL OF US basic planning along with some of the fine folks already helping to get the wheels turning!
ALL OF US is going to be at the same place this year, which is very exciting. Back to Saratoga Springs Retreat Center we go and tickets are already selling. Wait? What?? Well, the people who are already on the production team are getting their tickets as well as those who pledged some cash flow for us last August during the fund raiser. Check your inboxes or your Eventbrite logins, If nothing there then hits us up through the contact page.
Have you seen this land yet? Maybe you did not make it last year, but it is so beautiful and plush. The land is owned by radical faeries who are an amazing community with principles much like our 10 Principles. They are also radical, queer and have an amazing positive world view. You can see even more on the event page (linked here) and not to be confused with the official web site link here www.allofusevent.com.
TICKET SALES: Jan 1, 2018
Prices are going up a little from last year, but we will make it well worth your while. This space is super amazing and just refreshing on all levels. We see people coming in from all over the world to join us here and that in itself is exciting. To join in and be a part of the production team please fill out the questionaire: including art installations, work shops, or whatever you think will make this event even more exciting.
Ticketing Link: Eventbrite Link (https://allofusevent.eventbrite.com)
Production Team / Art / Performance Application: Google Form Link
This is a 18+ event. No pets. No children. All ticket sales are final.