We are blessed and we are working to make this magic every year. As queer people going to the playa we have a specific goal : let's do it again next year but better. Some of us the execution of those ideas is easier than others. Find the right people around that are the right "coo" to your coo.
Queer Burners [dot] Com
Is getting a redo right now, if you have not noticed all the changes slowly taking shape on it. This should be a resource for you. This is not political, but there are some discussions and notes about some shitty things. But mostly it is about great things and doing super cool things to make Burning Man better for you, your friends and your community.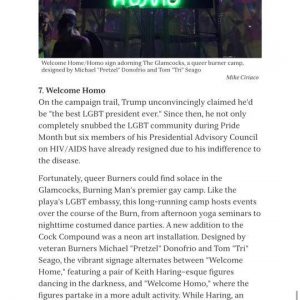 Tom and Pretzel are FAMOUS!
Both boys hail out of the Glamcocks now. Tom used to be more with BAAAHS but I think he has gone full poly-camping. Both are vivacious and spirited young men who I have seen work themselves into a stupor to make a project go well whether it was their own or helping with someone else's success.
They got a nice pat and on the tushie from www.LAWeekly.com this week because of a piece of art they created at Burning Man. The art piece will also be seen at the upcoming San Francisco Decompression at Pier 70 where, thanks to the same two wunderkinds there will be a recreation of the Gayborhood at this usually very hetero-centric event.
Decom 2017 in San Francisco
Several camps have banded together to create a mini Gaybohood at the event in San Francsico with BAAAHS (the Big Ass Awesome Amazing Homosexual Sheep) or better Pearl (the bus that is the shaven version of the sheep, will be the center of the attraction. camps participating include but not limited to:
BAAAHS
Glamcocks
Sun Guardians
Mystopia
Camp Beaverton/Gender Blender
AstroPups
Vietnamese Iced Coffee Experience
Paradise Motel
Come join us at Pier 70 on October 14th. Link to Facebook spiel. (link) Ticket prices are kinda high but they are at a new venue that sounds very exciting.