Hey Guys! I'm Booka, the mastermind and lone workhorse for "PlayaMates.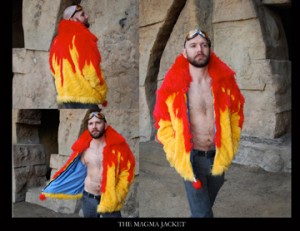 I've been a Artist all my life. Recently, I really needed to find a new outlet for my talents, AND find a way to fund my Burn. I got the idea to create outfits (mostly from faux fur, which is sorta traditional) that were really finely crafted, luxurious, and original Art pieces on their own. For the past 8 months I have done little other than sew! Mind you, the majority of what I have been doing is entirely stitched by hand (I do the linings by machine). It takes a number of weeks with each piece to work out the design, and all those little details that make them something special and unique.
Hand sheared fur, inlaid differant furs, "Horse hoof cuffs", satin linings, alot of pockets, a little military styling all go towards makeing sure that each piece can stand on it's own as a original little work of Art. I don't do duplicates, who would want what anyone else is wearing anyway? Alot of love and attention has gone into this collection, and I'm proud of it. The feedback from the pieces I have sold has been really encouraging; mostly how luxurious they feel, and how cool they make people look. So please check it out, see if something has your name on it. I try to be as flexible as I can, so don't be shy. Enjoy.
Love, Booka
Check out the site at: playamates.com/
I am also on facebook: www.facebook.com/pages/PlayaMates/198701076830348?ref=ts