One of the leaders of Gender Blender (Website); the camp name says it all. Cyndi generally runs the camp along with David, Ariel, Katt and have picked up some interesting new leaders and participants along the way seeking a place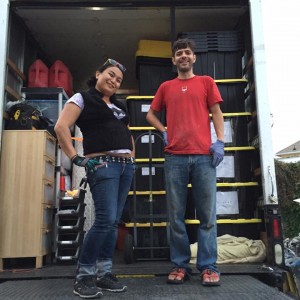 of gender queer and trans folk on the playa.
Gender Blender made its debut in 2009 and the following year joined with Camp Beaverton and then for a few years coexisted as CBGB, but they split in 2012 but remained close friends. Since then they camped directly across the street from each other supporting each of their missions of Sex positive thinking and gender awareness/queerness.
Gender Blender has been the only consistent camp for gender queer people since their inception. Cyndi and her team have been advocates for queer gender issues and education and support.
From the web site:
Cyndi "NoPants" Vee is a decade-long burner and part of the Gender Blender Leadership Team.  Cyndi has been described as a "punk rock mountain femme".  As a transgender being, Cyndi is as comfortable backpacking, camping, and off-roading, as she is rummaging through vintage clothing shops, cinching corsets, and dancing in five-inch stilleto heels. Cyndi is a techie, professionally and playfully.  To relax, Cyndi practices fire spinning and MFR massage therapy (just not at the same time). 
As an advocate, creator, leader and bringer of education for people of all walks of life, Cindy has been a major contributor to our community at large.