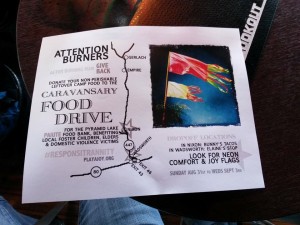 Once again our friends at Comfort & Joy Village have worked out a food drive for the local native population that surrounds the place we go annually for Burning Man. Pyramid Lake, Nixon and Wadsworth have indigenous populations that can really use some thought. How can you help the community?
drop of non-perishable and other foods at taco stands along the 447 marked with brightly colored flags
buy the delicious taco at those stands so income enters their community
get some of you last minute essentials like cigs at the Nixon market on your way in from the South.