It was my virgin year as well in '09, but I was on a mission. Not to get laid, not to get wasted till I puked my guts out and slept for three days, and definitely not to go on any sort of drug induced mind trip. Not at all. I was hesitant about even going in the first place and kept thinking, maybe next year I'll go instead. Something, somewhere, in the inner ear canal to my subconscious mind, I was told I needed to go. No explanation, no reason, not at this time. There was a purpose, but I need not to know at that point. I bought my ticket.
When it arrived, I got my Atomic Fireball and was told the story behind them being in the envelope. I stared at the ticket for days and kept asking myself, why do I NEED to go? I understand needing to go to the doctor, the dentist, the auto shop, the grocery store, work, home….but Burning Man? Sure I had gone to a number of regional events at that point and wanted to go to Burning Man, but that question kept coming up. Why do I NEED to go?
Fast forward to mid February '09. I was at Disneyland for my birthday weekend with some other friends who were also celebrating their birthdays too. My buddy Glynn met me at the park on Saturday with a biggo butch brutha hug, then looked me in the eyes with sorrow and concern. "Kasey isn't doing so good". Glynn told me about the procedures she went through, and they found out that Kasey was in stage 4 of stomach cancer. My heart sank. That night in the hotel room, I quietly asked if this is what I needed to go to Burning Man for? No reply. I didn't make sense. When I used to tell Kasey about Burning Man, she was just not interested. It wasn't her thing. I still didn't get it.
Glynn and another friend Margo had kept me updated on Kasey. She was in Sacramento and I'm in Las Vegas, so I couldn't just go see her whenever. Texts and phone calls two or three times a day. I was becoming deeply saddened over all of this because, well, Kasey and I had gotten into an argument a while back and I quit talking to her. I was angry at the situation and because I didn't get my way, I just stopped talking to her. My pride got in the way of our friendship.
A month later, I got the phone call from Glynn. That one that no one wants to get. Even if Glynn had left a message, I still would have had to call back and hear those two words "Kasey's gone" on the other end of the phone.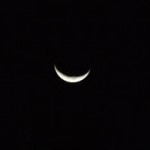 Weeks later, I traveled to LA for one of Kasey's memorial services. She loved pink, and we all wore pink somewhere on us that entire weekend. She also loved glitter and we glittered each other all weekend as well. Pink and glittery anything. That Saturday night we were all in Margo's backyard making S'mores and remembering Kasey, I looked up and saw the moon. I had to get everyone together to see this. We all stood there, holding each other and crying. This is what we saw.
Amazing isn't it? Kasey was smiling at us. We could feel her there with us.
Once again, I was left with the question of why do I NEED to go to Burning Man. Then it was all made very clear to me. I had to do something to let her know how sorry I was for being an asshole. My lesson was learned. I got it.  (While Kasey was in the hospital, I couldn't talk to her on the phone. I sent Glynn and Margo messages to let Kasey know that I was sorry for what I did and even though they gave her the messages, I was told that she just smiled.)
My mission was very clear to me, and after much thought I decided what I was going to do. I made a pink mailbox, with pictures of Kasey and little pink hearts all over it, gave all of Kasey's friends and family our address at Burning Man and told them to write Kasey a letter and I will put it in her mailbox. On Saturday at Burning Man, I will dress up like Hermes and deliver Kasey's mailbox with all the letters in them to the Temple. That was my plan. THAT was my mission.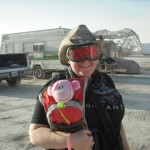 It didn't take me long to make the mailbox and I had arranged for Margo to send Boots (a pink sock monkey that travels around the country in honor of Kasey) to me at Burning Man.
That Saturday afternoon at Burning Man, Toaster, Malicious, Cameron and myself (with Boots in tow of course) hopped on The Neighbors Dog and drove out to the Temple with Kasey's mailbox.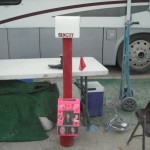 I didn't get a chance to dress up like Hermes, but I guess it was the thought that counted. Anyways, we drove out to the Temple and as we got there and started walking up to the Temple, a man on a bike from The Post Office came up to us. "Kasey Kirby?" We all turned around with the mailbox in my arms to acknowledge him. He told us that he was at our village and they told him that we were on our way to deliver the mailbox. My heart sank. This guy rode his bike from 7:00 and Esplanade to the Temple to deliver a letter to Kasey! We all looked amazed that someone did this, not knowing anything of this journey. I asked him to put it in the mailbox and we thanked him as he went on his way. As we all walked inside the Temple, I was taken back by everything I saw and felt. I couldn't even begin to describe how I felt other than sorrow. We went upstairs and found a spot for Kasey's mailbox. Toaster placed it in the Temple for me because, well, I'm short. 🙂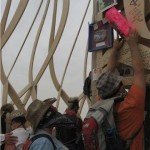 At the Temple burn, I said my good bye's to Kasey, told her again how sorry I was. I wasn't asking for any kind of forgiveness, I just wanted her to know that I was sorry for everything. Since then, when I think of her and start to cry, I get this feeling of….it's ok….over me. I still carry this burden with me every day that I didn't talk to her and say good bye, and I will for the rest of my life….until we meet again.