Out of 150 attendees we got 42 people who answered a survey about the weekend. Overall it looks like people love GroundSwell, but not their plumbing or the cabins so much. But overall people seem to love it very much. The goal was to capture the general feeling of the event as a whole.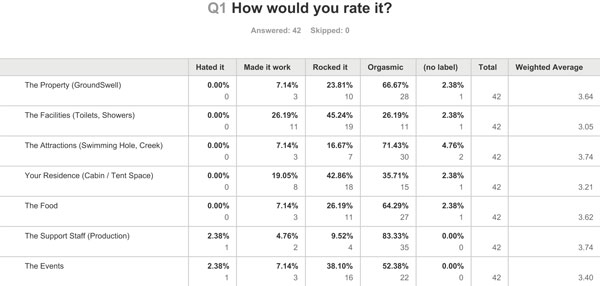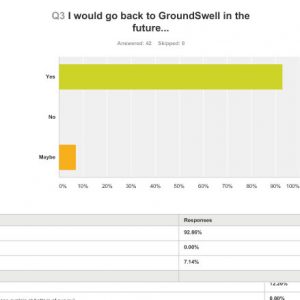 There is little doubt that GroundSwell was very appreciated by everyone attending. While we love the property the production team is already looking at a place that can hold for a larger population next year. The Queer Burner Retreat is not looking to grow significantly, but we feel that the new venue will allow us some growth and the ability to expand what we are offering.
We had no injuries this year, thank goodness. We had no need for any medical assistance or problems with behavior. Everyone was safe and not a single incident was raised that except for 2 minor abrasions that were treated with the first aide kit.
We were fortunate to have a attendee who was a paramedic and he was not needed in that sense.
In regards to GroundSwell there were some comments:
"Cut down the tall grass in tent sites to decrease tick activity."
"Time to upgrade that bathhouse! :)"
"…No real suggestions except possibly expanding volunteer roles a bit with like a "bathroom mop" daily or something. But
people were super-cooperative and pitched in. It worked!"
Events
The next biggest area we got comments on was about the events that were offered and not offered. We had a limited program based on the amount of time available on the weekend. A few people asked about having an ice breaker on day 1 which is something we should definitely consider.
Day 1: Camp fire meet and greet at 9pm
Maybe they were suggesting some kind of exercise. We did have Dinner Circle wherein people were introduced but if someone has a suggestion in the future that is something that can be implemented please let us know.
4 workshops
Inclusivity workshop on Saturday at 10am
This seemed to be a well attended workshop and really took on the banner of the weekend as the Production Team wanted a gender and racially diverse weekend. We went to a lot of effort to try and make sure people felt comfortable.
Hats for the Playa on Saturday at 1pm
A nice afternoon crafting workshop with good attendance.
Being a Ranger on Sunday at 10am
While the rangers out-numbered the attendees it was really nice and we hope some people felt inspired to explore rangering. I know a few people understand what Rangers do more.
Acculturation Sunday at Noon
There were comments about workshops for people new to Burning Man. We did have this piece for newbies and encouraged all new people to attend.
The Food
The survey at the top was very well in favor of the food produced, but there were some people who noted some dissatisfaction. Clearly we need to do better with Vegetarian food as the chef was not as prepared as needed to handle those needs. This falls strictly on Toaster who will make sure that these needs are met next year significantly better.
Lessons Learned
Mistakes happen and the real failure is not doing better next time around. Here are a few areas of note in random order:
improved meals for vegetarian diets
more clearly defined workshops
better explanation of the requirements of consent and personal boundaries among the attendees
written agreement with staff
making sure property representatives are able to respond to the needs of their guests
Conclusion
The survey we put out was to get a general temperature of what people experienced and how we could do better in the future. There were places we fell down and hope people will give us a chance again next year. Please add comments to this page or continue the dialog in the Groups / Forums part of this web site.