Art is the core of Burning Man. No, not the whump-whump-whump-whump-whump-whump-whump-whump …no. Art is the core because without it it might as well be the Electric Daisy Festival. But then again, even EDC gets burner art at their event.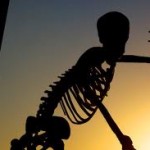 In recent years we have been blown away with pieces like Charon, Bliss Dance and so many more. Art by Queer Burners can't be separated from the herd, but we can talk about it a little more as we honor our pink-tinted brothers and sisters of the playa.
This year there are more exciting projects and the fear that art was vanishing because of the ticket disaster might have been premature… or they fixed the issue. Either way let's look ahead to some cool stuff.
A few pieces have made their way to the Gay Burners page on facebook and we anticipate greatness on the horizon. Exciting… but money is needed to make these things happen and even $10. can go somewhere.
Murmuration
Murmuration is an insanely cool interactive kinetic art piece for Burning Man 2012! We are a small group of L.A. Burners bringing art and fun to the Playa. Looking forward to bringing this insanely interactive kinetic art piece to the Playa 2012!
Issues on the Table
This one is the most personal project to date as it goes back and reaches deep into the very dysfunctional relationship I had with my father growing up. Looking at the graphic you can clearly see two sides of a dining table with one side melting into the other.
The Pier 2
Last year 25 great friends came together to build a 300 foot long third world pier in the middle of the Black Rock Desert for Burning Man. We all thought the idea was pretty cool but we were unsure of how well everyone else would receive it. Much to our surprise the people of Black Rock City seemed to adore The Pier and we were asked to bring it back!
Mayan Tricycle
I want to build a great big "hamster wheel" that people can run in that will roll inside an even larger wooden wheel all connected to an odometer to show the workings of the Mayan Calendars. It will stand 22'+ tall, have gears meshing with gears and the whole thing will burn down a week later.
Breaking Wave
The Breaking Wave sculpture wants you to be involved with it's construction. We want random pieces of wood, specifically abandoned lumber that has drifted onto a west coast beach or coastal area. The Breaking Wave will be constructed from scratch on the Playa at Burning Man with drift lumber contributed from all  over the World.
Support art going to Burning Man any way you can.
Why were these pieces chosen out of so many? Well, these are actively engaging our community and are reaching out to us.