We have been fighting a battle that may have reared it's ugly head in 2001 when a protest over a Jiffy Lube sign on the playa caused an uproar on the playa. Even Larry Harvey had to go speak at this protest on the playa… that is a little burner history.
Burning Man Organization (BMorg)
Burning Man has changed a lot over the last couple years as they transition to a non-profit and less about running a giant festival in  the desert. Yes, I called it a festival. That Thing in the Desert (TTITD) reels when called a festival. By virtue of existence of the Gayborhood we have been accused of being divisive; in the sense that we are keeping people out and keeping people in.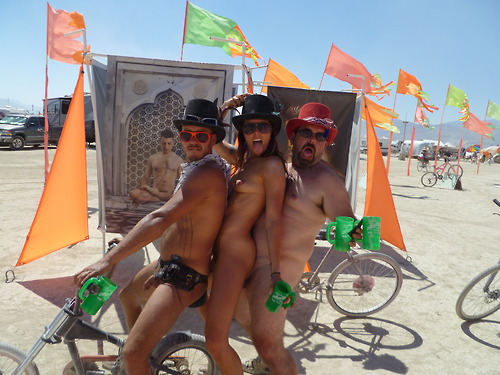 I got word about this last year from the home office. We are not affiliated with BMorg (Burning Man or the Burning Man Project), but in the 2013 Queer Burner Leadership Summit we attacked this question directly. Were we acting against the principles of Burning Man by creating this neighborhood that seemed to cater to a specific demographic of the experience? Collectively and through a great deal of discussion we determined the answer was a resounding "no".
We have multiple events inviting people in to participate in this amazing community.
The Gaybohood has 2 stops on the Naked Pup Crawl.
Camp Beaverton: Workshops for everyone
Comfort & Joy: Fantastic workshops and shared space
Celestial Bodies: a hub of the playa with Playa Cosmos
AstroPups: Naked Showers
Camp Conception & GlamCocks: Amazing parties
We are looked at as being exclusionary. We are looked at as being divisive. We are simply misunderstood. While Burning Man wants it's citizens to be integrated, the level of homophobia at Burning Man and in the community is always surprising to people exposed to it.
BMorg members and leadership camp in an area called First Camp which is positioned just outside center camp. They actually have a wall around their camp. Anyone can walk in and engage people but how many feel welcome?
Visitors stream into the Gayborhood sometimes aware of the principle demographic or not. They run through the silver streamers in front of Comfort & Joy or just enjoy the art and welcoming, open spaces of our community.
The Gayborhood
We went through a lot this year. We had some people within the LGBT community attempt to tear us down from within and we had people looking in from outside making huge assumptions about what this neighborhood represents.
Our leadership has converged and came to a conclusion; we are here and we are queer. We provide to the Burner Community and we have a neighborhood that is a community in every sense of the word. We provide a safe island for some who stay a long while or just a quick visit.
This rich space is filled with art, faeries, sex positive support and expression and so much love it is hard to fathom. We are always welcoming and we are always giving back.