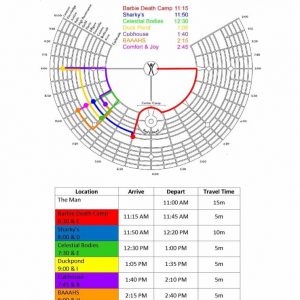 Well it's out. One of the most popular events happening on the playa is the Naked Pub Crawl aka Men's Naked Bike Ride… although not technically synonymous. It is of course a radically inclusive event, but also attracts mostly gay men. By the time it is done people are feeling… well… no pain.
(click to view image > and hit the back button in the browser to escape)
This typically happens on Wednesday at 11am and lasts until the early afternoon. There are hundreds of people engaged in it and is is a lot of fun.
The organizers posted this imaged on the Queer Burners Facebook group and have indicated there might be more changes coming. But, we can be assured that the event is scheduled and will start at The Man* then off to Barbie Death Camp.
One big change this year is the giant Circle Jerk is not happening at the end of the ride. The organizer has moved the Circle Jerk to Thursday asking for a focus on the ceremony of a circle jerk. This is good for a variety of people. The limits and strengths are +/- for people because in the ceremony you can't go-down on someone or start fucking. There is a discipline needed and the challenge of patience.
Link to the Bike ride in Playa Events
Link to the Circle Jerk in Playa Events
The writeup from Playa Events (linked above):
Since 2004, hundreds of burners meet at the Man and pedal off into the City for a few hours of bar hopping and good cheer! Multiple host camps will have bartenders standing by with icy libations prepared exclusively for the riders. Among this year's host camps are Barbie Death Camp & Wine Bistro, Duckpond, Cubhouse, BAAAHS, and Celestial Bodies. The ride culminates with an 80s Jazzercise Dayglo afterparty hosted by the wonderful folks at Comfort & Joy. If you're willing to meet the dress code, join us for one of the goofiest parties on the playa. No statement or political agenda; just riding our bikes, drinking some cocktails, and making new friends. Oh yeah, and we're naked. Mugs for the first 500 riders (and yeah, we always run out). Cheers!