This author has thrown a lot of jabs at BMorg and has lobbed quite a few compliments as well, so I think it has been pretty balanced. Alas, while critical feedback has come right back for a variety of reasons I stood tall with feet planted in the ground defending the ideology behind my Queer Burner projects.
Queer Burners as a Project
It has been 5 years of this project and I am hoping to see it expand in the next 9 months with your help. Along the way, some people in BMorg and some members in the LGBTQ community have seen QB and the existence of the Gayborhood as an idea in opposition to the 10 Principles and Burning Man ideology. Frankly, it seemed like the people making the most noise knew the least about it.
At the 2013 and 2012 Queer Burner Leadership Summits (the first two years of such an event) it was determined that the Gayborhood was an oasis for Queer Burners for several reasons that served a special purpose:
Security for LGBTQ people
a place to connect easily with other LGBTQ people and their friends
and a place for people to explore their boundaries.
With the critical feedback there may have been some truth in the bad information.
The Gayborhood promotes exclusion by keeping people inside the zone or people outside the zone
THIS IS NOT TRUE: or is is in some cases. And it always is 'some cases'; but that comes down to individual responsibility. I heard about someone in the Comfort & Joy Village  who had a camp responsibility who was so focus on his tasks but forgot to enjoy themselves. Why some people never really leave their camps defies explanation, but it does happen. Is that the fault of the Gayborhood or an individual choice?
Queer Camps Win, Lose, Drawl
While the Gayborhood and camps stretching out from it have created a fantastic space for many years; even longer than I have been a burner, I watched it become and vital and important space over the last 5 years plus. I saw Comfort & Joy as well as Camp Beaverton/Gender Blender be the nexus. They created some amazing energy and it has drawn in so many great camps and parts of their Village.
To find out more about LGBTQ Camps at Burning Man see the older Camps Lists and the Groups section here on the site.
While we have had a wonderful variety of camps in the Gayborhood and it is my hope to see more diversity in that moving forward. Some camps have been around a long time and in some cases very comfortable in their identity or schtick as one might say. Along that lines in some cases a reputation earned or not.
GlamCocks
What can I say about this camp is but they have an amazing infrastructure and a presence that just radiates and calls people in. This year a movie came out called Meet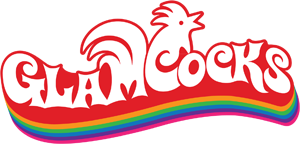 the Glamcocks to their credit got them a lot of acclaim and was featured at several film festivals. In 2013 they had an amazing site at Burning Man on the 7:30 Plaza where they would be highly visible.
Clicquish, self-absorbed, L.A. and N.Y. attitudes on the playa
Twink filled camp, very unfriendly, unwelcoming
While this author visited their camp on several occasions and had similar perceptions, it became clear to me that this really was an amazing camp that did not deserve this easy labels. While these were a lot of young and attractive people in the camp dismissing them on the basis they were bringing the wrong idea to the playa was unfair. Yes, they dance to their own beat and if that makes you feel unsure then find another camp to enjoy.
Another camp that gets some curious dust is Astropups
AstroPups
This is a group that have been on the playa for a long time. AstroPups are also one of few highly structured camps on the playa annually with a very well greased machine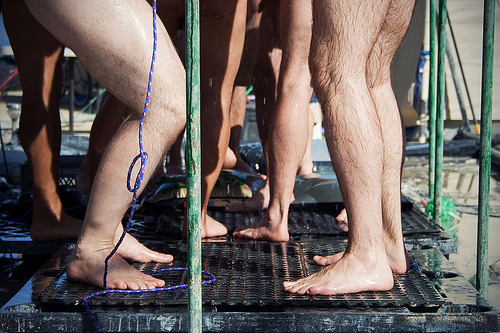 (no pun intended) and infamous shower system. Do they ever leave their own camp?
Non-participatory, anti-social, exclusionary
Bear body type focused and their friends
While the Pups have an amazing and hard working group of great people, their camp is always open and welcoming to people. They are a little careful who is invited beyond the front because in the last couple years there has been more criticism on their most popular feature: showering with Bears. A group shower that is a lot of fun.Whether they venture beyond their amazing camp is all – again – an individual decision.
Conclusion
Seems like a lot of critical feedback forgets some very special things: the 10 principles. And whatever your radical self expression is it can be less than radical and more chill if that is how you roll. So,
let's stop bashing someone's vibe because it does not mix with yours and find somewhere that does
find the positive nature of your new experience over how theirs is not your groove.
Especially in the case of the Glamcocks above: my initial experience was like a couple people who shared their thoughts but after some reflection I realized that it was more my baggage then the perception. I looked at them again with a visit and saw the absolute beauty in these camps. So drop your baggage at the door and find the positive in your world rather than staying in the negative.