(7/18/2011) Yesterday's trip to the "Prepare for the Playa" and my recent involvement with "Burning Man Costume Creations" got me thinking a lot about what people are wearing to playa.
A few weeks ago I went to "Rites of Massive" which was a huge fund raiser on Treasure Island for Opulent Temple and the Distrikt which are 2 of the larger clubs on the Playa. It was huge, amazing and… opulent. On the way in I started looking at peoples wardrobe and heard a veteran burner describing to his newbie friend was is burner and what is not.
There is a mainstream of apparel that smacks of typical burner attire including for women: corsets, fishnets light tubes and fake dreads in any form; also include almost anything you might see Stevie Nicks in. For men there are these beautiful long pirate or Edwardian coats, womens skirts, more dreads either real or fake and often some kind of full on women's outfit at some point. Note: almost anything with faux fur is a winner as in vests, animal hats and giant coats!
With all the talk of radical self-expression there is a hell of a lot of definition what is burner and what is not. It can't all be furry pimp hats and Edwardian /  Stempunk blah blah blah, but the idea of radical Self Expression is the ability to make your own spin on the costume of your choice.
Burning Man itself is a very hetrero-centric, Caucasian, hedonistic love fest that somewhere along the way blended with the Raver community. I feel often that their radical self expression is something Queers like us already do on a daily basis; but with a little more style. (Note: hesitates with some of these words as to not seem to put us above this demographic, but note that gays – lesbians –  trans-genders – etceteras have been do this in the default world in our daily lives)
The impact on the Burning Man culture with the huge presence of gay neighborhoods has more or less fit into the culture and the costume expression that has gone along with it has been fairly uninspired on a lot of levels, but I suspect we have made a lot of effort to show how much we appreciate Burning Man and the ability to play like all the others. The biggest innovators from the gay world has been the more hard core gender bending camps that Comfort & Joy as well as Camp Beaverton/Gender Blender have brought to the scene.
Costumes for the Newb
If nothing else there is a shopping list of must haves when at Burning Man and a few suggestions. As far as what the average burner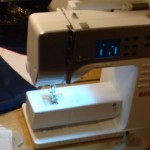 is wearing often that is defined by the economic status you are in or what you are able to create. Radical Self Expression still has to be the core that your express yourself with! You can go to things like "Prepare for the Playa" and spend hundreds of dollars on playa gear, too. What I saw on prices was pretty high, but then I looked closely at what was there and said…I can make that. Don't be afraid to whip out your hot glue gun or Barbie sewing machine and give it a whirl.
What you Need
Tutu (or 2) | Good Shoes/Boots | Sari or wrap | Theme Costume (See posts on ePlaya)
Okay, so maybe that is a relatively short list of needed items. But the beauty of that is YOU get to fill in the blanks. I think… the billion bunny marsh is a annual tradition led by $tephen Ra$pa so you might need a bunny costume. Of course any type of cute bee costume seems to be a winner. Las year they did a whole superhero thing that went on through several days and camps. If you watch the chat boards they will start talking about something new. I did see something about unicorns… but who knows where that will go.
For survival through the week be sure to read all that Burning Man has to offer on Burning Man [dot] Com