We did it! A collective of local queer camp leaders met with Placement at BMHQ to discuss how to manage the number of request for 7:30 sector, which are almost double the number requesting any other sector of Burning Man. Besides providing a safe space for LGBTQIA folks, we've created a tight-knit community that produces amazing art and a powerful experience on the playa. Other burners have responded, and queers and allies alike are flocking to our rainbow colored beacon.
Using survey data you, the Queer Burner community, provided us, we discussed what makes the Gayborhood (or more inclusively "Queerborhood") such an important place for our community and for Burning Man in general. We tried to tackle issues of safety, inclusion, freedom, self-expression, and all the powerful themes that you all wrote to us about!
The Placement Team also brought data of their own. Using the BRC census data, almost a third of the BRC population self-identify as "LGBTQQ".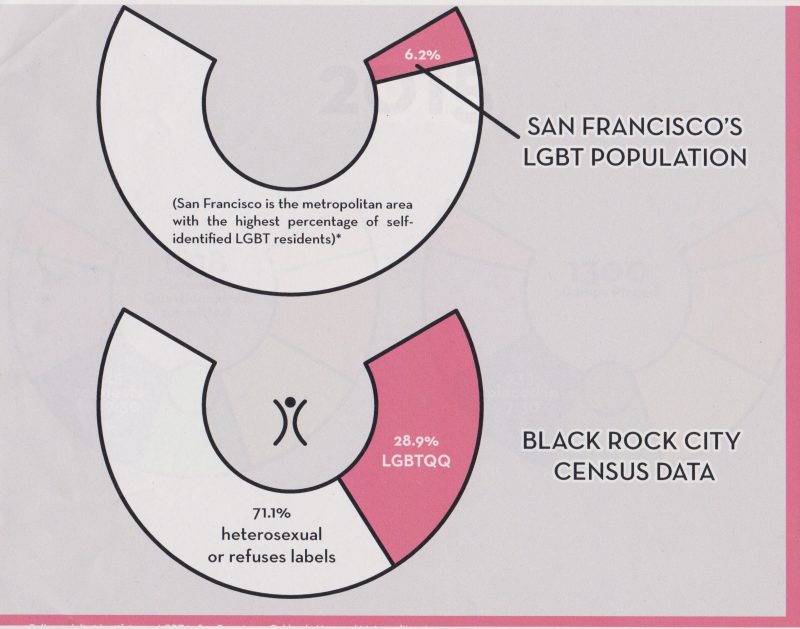 And, now, BURNING MAN PLACEMENT needs actionable information so as to not break up the Gayborhood/Queerborhood and still solve the logistics challenge of cramming too many camps in a limited amount of space. So…
URGENT: Before Friday afternoon we need the community to answer a few more questions (not many, really): https://www.surveymonkey.com/r/GPJFRLZ
Answering the questions above will directly guide the ongoing logistics discussion with Placement. You and your camp leaders are invited to participate so that we can continue to create a supportive space for those who want to share in the community.
This year we anticipate seeing a Gayborhood "Rainbow Road" scenario much like 2016 (possibly extending beyond the bounds of 7:30 and into the adjacent sectors). However, in the not so distant future, we are likely to see TWO Gayborhoods and new questions in the Placement Questionnaire for camps to self-identify as queer and wanting to be in the Gayborhood/Queerborhood (rather than just requesting 7:30).
For now, use the Queer Burners [dot] Com Forums to share your opinions. Help us continue the dialog by letting us know what you need!
Leaders of Queer Camps facilitating the discussion:
– *Tiger (Glamcocks) – *Christian (BAAAHS) – *Cyndi NoPants (Gender Blender) – *Toaster (Sun Guardians / Queer Burners) – *Indigo (Astropups) – *Dare (Glamcocks) – *Foxy (Beaverton) – *Ariel (Gender Blender) – Terry Grossman (Gaylactic Village / Time to Burn) – Ed Edmond (Burner Buddies) – Zach Bunker (BloAsis)  *in attendance at meeting w/ Placement Team