Membership is back open now that Burning Man 2013 is finished. This Toaster is back and while I was there in the desert I was working it. Yes, I  talk to people and I try to continue build on this idea that this is an important community.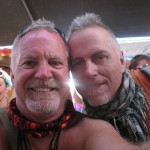 Queer Burners is a project I started at the end of 2008 / beginning of 2009 as a static web site as a place for LGBTQ burners to connect. It had nothing to do with the Gayborhood or creating leadership.
I explained my actions to a camp mate and their reactions was, 'wow, you are mister popular'. It's not about that. I talk about Queer Burners because it is important that we stay united. I am forced to defend my belief that the Gayborhood is vital and that uniting camps and people in the community is as important as community leaders in the Castro, Boys Town or any other community inside a city.
The QBLN: Queer Burner Leadership Network is just the next level in this project and has resulted in the Queer Burner Leadership Summit over the last 2 years. These have been very inspiring and community strengthening exercises.
Nobody appointed me to do this just as much as no one tells you to do the right thing when you know it is what should be done. I do not do this for ego or to be the coolest kid on the block. I would gladly have someone just as committed to this community right there helping out. So far there has been limited inspiration from anyone to help manage this project, but I am getting help and I appreciate it.
For all the people who have thanked me for this work, I cannot share enough appreciation in return. The important thing to remember is that this is community driven.