I was recently reminded that I used to write out a whole trip report about what I saw at the burn and about this community that I am so passionate about. To that end, this was the strangest burn I ever had because I did things I never did before. This post is not about me, but as seen through my eyes for 2022 that is disconnected from my usual experience because this is my first year NOT camping in either of the Queerborhoods. I spent most of my time visiting friends at Comfort & Joy. And when I needed shelter and down time, I also went to C&J. But in the end I ended up leaving on Friday before burn night on my seventh day in Black Rock City.
Burning Man 2022: a trip report
As noted above, I left the event days earlier than planned because I was not really prepared for the 2022 burn. Consider that I started in 2008 and have been to Black Rock City quite a few times, but each time I was part of, or running, a theme camp. This time I was basically on my own. I should have done better, but it seems I was not the only one who forgot how to burn.
My take on the city was that it was as beautiful as ever. This year we had 2 Queerborhoods that were intentionally set and dubbed East Village and West Village. The road to making those villages happen was interesting to watch from the sidelines. And operating in the shadow of the Cultural Direction Setting project by burning man in 2020 and 2021, it made that evolution even more interesting to watch from a certain point of view. My POV was that there was a lot of bigger, better, and more.
Any of those things mentioned in the above confusing? If not, skip to the next paragraph. In 2019 I was recruited into a group called the Cultural Direction Setting Team started by Burning Man with a mission to better define expectations of camps and our community. A big part of that was dealing with the troublesome big money camps that had no connection to the Burning Man ethos. But, another part of that was asking current camp leaders to get current and new camp leadership to up their game.
East Village was a Queerborhood space at 4:30 and D +/- with BAAAHS as the anchor camp.
West Village was the Queerborhood at 7:30 and D +/- with Comfort & Joy as the anchor camp.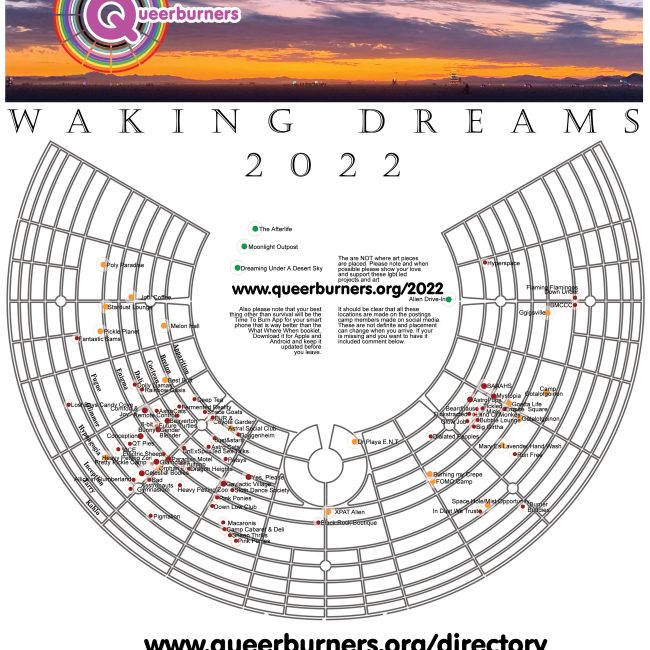 The City
2022 was my first year as a Ranger. It was my first year not being a camp lead. I got out to the city more than usual. And, in the course of rangering I got to directly engage tons of people and exploring on a level I never have before. The city was alive, thriving, and though I know a lot of people had a hard time it seems there were a lot of successes. But, a lot of people left about the same time I did. Sadly, I missed the burn on Saturday and Sunday that I wanted really bad to be a part of.
I made a map of the city before I left and shared it with a lot of people. I am about to start the new one for 2023. And it seemed a lot of people really liked it, so I am going to make it bigger and better for the future. Queerburners has some exciting plans for a new queer guide in 2023 and everyone will see it in living color.
The Community
This is a topic that is of the highest importance to me, personally. It is one of the 10 Principles that is the reason I am a part of this idea of Burning Man. The importance of coming together is a human need. Watching some of these amazing and successful things people have created with the support of the community fills my soul. Specifically, and most recently, The Afterlife art that was on the playa in 2022 and elements of it will be at the BAAAHS campout this coming weekend.
Recommended Reading: "Dancing in the Streets" by Barbara Ehrenreich

from Michael Cooper
That speaks with a focus on out LGBTQIA participants, which is important to me because there is a marked lack of safety for queer people. We have the Queerborhood for a lot of reasons that have been hashed out in this blog over and over. Collaborations are the pinnacle of success in my opinion. One of my favorite was the party that Mudskippers did featuring Whitney Houston* that grew in popularity over the years.
Another space usually close to the Queerborhood is Golden Guy Alley. This concept is the future of Burning Man, crating small vignettes you can only get to on foot based on the Japanese Golden Gui Alley, but more fun. Last year Tom's Bar made its debut featuring the art and style of Tom Of Finland. When I walked in I was gagged (not that way) to see the bartenders were all burners I knew from all the corners of the Burnerverse COLLABAPORATION and COMMUNTIY!!!!
Being a Ranger
So, 2022 saw a lot of new rangers on playa and I was one of them. It was obsoletely one of the best choices I made. I would encourage more queer people to submit on the Burning Man Volunteer page as a ranger and go through the training. It will improve you life. I am not kidding. I get your toaster pin … for obvious reasons! Ha ha ha ha ha.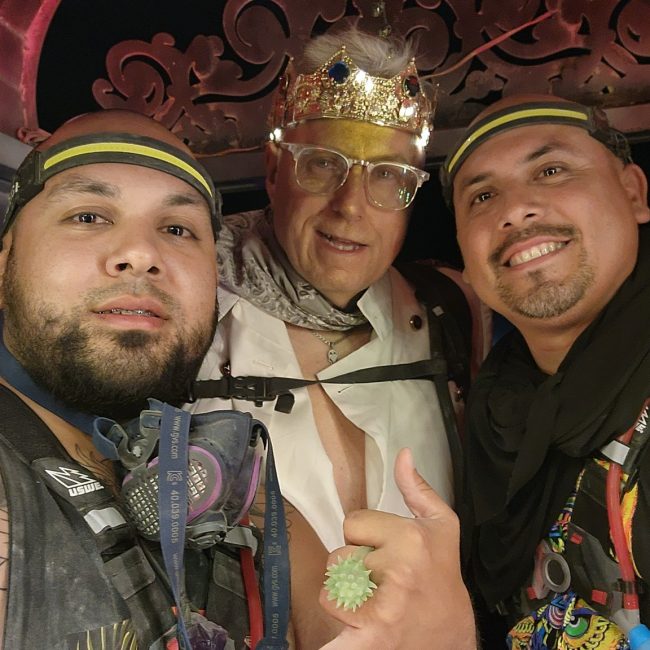 On a more serious note…
One of my initial goals with joining this community was to better my relationships with women. Over time I found a lot of women in this community as strong, brilliant, bright lights that were supportive and made really good friends. My learning curve was a very wide arch and I am still learning. Yes I made mistakes but the only way to improve is by actively listening and doing better through my actions and my words.
This evolving I mentioned gave me stronger ties to people who are trans, non-binary, and many still figuring things out. I have fully embraced people in a more loving way, though again, I am still growing.
What is your intention? Go to the burn with an intention and a promise to honor the ten principles. Throw yourselves into a project, a camp, or some kind of service outside yourself. Yes, there is an amazing party going on, but making it better for someone else will raise your own social credit and happiness is catchy.
<< My 2022 with TacoBurger and Ra