Hey guys and gals and nonbinary pals! Joel here. Long time burner since way back in…. 2018.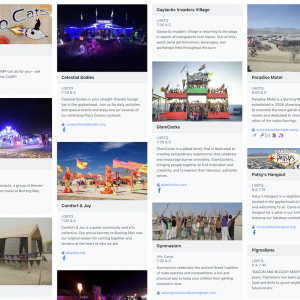 This site has had an annual list of LGBTQ+ theme camps for many years. It has been a great way to connect the community: there were almost 70 camps (including Allies) on that list for Burning Man 2019.
Well, I thought it was about time to make it a little bit spiffier.
Over the last couple of months I used my time stuck at home to build queerburnersdirectory.com. It's shiny and has pretty pictures. It allows any theme camp owner to update their own camp, provide pictures and listings, and recruit new members.
Yeah, I know, there's no Black Rock City in 2020, but I had a ton of fun looking up last years' camps and finding public pictures of each one. Y'all have some really cool camps there and I wish I could visit them in person. In the meantime check out queerburnersdirectory.com for a taste of last year. And if you're a theme camp owner, please update your listing (or submit a new one for 2021, why not?) and send us all your feedback!