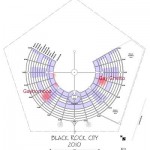 A couple people mentioned in posts and email that they did not really know where the gay camps were concentrated… or more-so where or what the Gayborhood/Gay Ghetto were. The map attached to this piece from the 2010 Metropolis is a rough estimate of just those.
MalMart is loosely marked there as well as Pink Heart. This does not mean 2011 will see the same exact placement, but it seems to reflect 2009. Having spent a lot of time in both regions I can say I had a lot of fun and met a lot of amazing people.
The map is just generally informational and I will look to post something a little more comprehensive after July 1st when the theme camp list is published and we get a list of the gay camps projected for 2011 Rites of Passage.
The reality is that gay camps are all over the place, but these small concentrations of familiars feels like a pool of water in the middle of the desert when we are seeking to make connections.
I personally pledge to visit and spend time in every camp posting here to some degree and be there to support whatever I can. We are a single part of a whole and I look forward to spending time together once again!
[ngg_uploader id = 7]
If you feel like adding… I was doing 2010 pics only