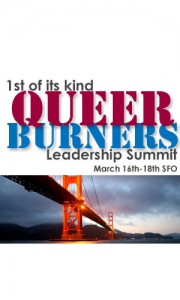 Queer camp leaders, community leaders, get together for our own summit before the Burning Man Leadership Summit to talk about issues in our communities (geographically) and with our queer community relationship with the lifestyle.
Dialog is already brewing and some discussions already on the table. It is time to actively reach out to BM Queer participants/leaders. The one VERY IMPORTANT thing to remember is the word Queer before any of these terms is NOT EXCLUSIVE and not derogatory. We have some great hetero or hetero-adjacent friends that are a part of the community of all genders. [AGENDA]
March 16th to the 18th / 2012 in San Francisco
As this year's Burning Man season starts up, it's time for queer theme camps, villages, art projects & mutant vehicles to Come Together to…
DISCOVER… which queer projects are coming back for 2012,  how to plug in, and start working together to build amazing Black Rock City gayborhoods!
RECRUIT… new camp members, workers and support for your project!
LEARN… from your queer burner peers… and share your insights too…
DISCUSS… Hot Topics, like applying Ten Principles to your collective's efforts, and how the Fertility theme relates to Gay Camps?
POLISH… your camps anti-MOOP efforts… with tried & true LNT best practices that can help you earn the coveted post-burn Green rating
BECOME… Part of the queer playa community!
Cosponsored by queer theme camps:
+ Camp Beaverton / Gender Blender
+ Comfort & Joy
+ Sun Guardians
+ The Pink Gym
+ Astropups
+ Poly Asylum
+ …and more!
Cost: Sliding scale will be asking for $25.00 / attendee for food and event expenses. No one who wishes to participate will be turned away for lack of funds.
If you can make it to the city we can help you with housing and food. You can chose to stay in a hotel on your own dime, but we are a community and have a lot of members in the SFO area that are there for you, too.
VENUE: TBA but will be centrally located and easily accessible by train and bus. It is not recommended that you rent a car as parking in this city is hell and expensive.
PLEASE RSVP ON FACEBOOK IF YOU CAN [LINK] TOO
Leadership Summit Attendance Form and Fee Payment
[contact-form-7 id="1759″ title="Summit"]
---
See payment in right side bar… Thanks!