This site is a resource for Queer Burners (LGBTQ++ which is Radically Inclusive) who want to connect with and hang out with other burners with similar wants and desires. Those needs might be social and/or it might be sexual. Queer Burners have a lot of talented people. We also have a lot of amazing personalities people want to be a part of.
Gayborhood v. Gay Ghetto
The existence of the Gayborhood has been criticized and discussed in past posts. However, BOTH Queer Burner Leadership Summits (2012 and 2013) the attendees have discussed the real value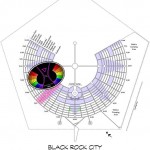 of this part of the city is in it's safety and familiarity for LGBTQ+ people. This is a place anyone who needs help will find real sanctuary if needed.
The one sad fact about the Gayborhood is how it is often misrepresented by the perception of those who do not participate in it. Or those from within the LGBTQ community who sit on the sidelines like bitchy gossips peering down their nose and refer to it as the Ghetto; not unlike a gay man being called 'faggot' on the street. It's slanderous and mean-spirited.
The Gayborhood this year sits on the 7:30 corridor and is spread out thinner than it has been in recent years. This is both good and bad as it either undermines the sanctity of the space for queer and queer-friendly people or it gives other Queer Camps a chance to fill in the space and make a bolder statement.
LGBTQ Who's Who at TTITD*
At some point (after 2006) Burning Man stopped sharing the actual numbers that were released through the afterburn reports. Assuming that this is a fair representation 22% of the people polled showed how potentially queers were playing a significant role.
In the same year, in a place with some very fluid sexuality, people were asked if they were bi-sexual. 38% of those who answered were vague at best but it further cements in the need for awareness.
Many of us have seen or participated in the census at burning man which can be found in the Center Camp Cafe. There are more questions than you can imagine in it and yet the afterburn reports give us a fraction of the results.
Take a look at the above charts from the afterburn reports and see how the data has been portioned out effectively editing out the queer community and focusing on a homogenized and very heterosexual audience. While the data showed in the past 1/5th and potentially more of the burners out there were or are LGBTQ identified or not. The data released spawns more questions.
(*TTITD: That Thing In The Desert aka Burning Man)
Not every rainbow is gay
Before you get confused about the uncommon amount to rainbow flags out there… they don't all mean what you think. There are 3 rainbow flags out there and if you were unaware they meant something different one might think there were A LOT of Queers on the playa!

7 Color PACE Flag: Diversity with 'Peace' in Italian on it (same as #2 but pretending to be Italian)
Not that there are a lot of rules about flying these flags but my initial thought was 'wow, there are a of gay people in these camps' as if in many cases these were letting others know where we were… not so! But not necessarily not so either.
Maybe this was the same confusion Oscar Remundo (blogger for the Huffington Post) had when he stated in his post that 70% of Burning Man attendees were LGBT. I know I was starting to wonder myself because gay people were everywhere.
Queer Utopia
LGBTQ people have flocked to this culture because of it's radical inclusion and acceptance of people irregardless of who they were or where they came from; as long as they can afford a $400 ticket and survive in the dirt for 8 days.
Conclusion
The contribution the LGBTQ community offer a lot to the Burning Man experience inside and outside of the trash fence. Our identity as Queer Burners v. just being referred to as Burners is often at question, but to be minimized by BMorg (the Burning Man Organization) or from within by Queer people is a cancer that is not constructive.
Being aware of each other out there strengthens us as a whole not just LGBTQ but also with Burners everywhere.
We celebrate faggotry and all Queer presence on the playa that gains focus in the Gayborhood and radiates outward. The Gayborhood expands and contracts wildly with layers and satellites that bring diversity all over the BRC (Black Rock City).