One of the best pieces of advice I got when in the first half of this project came from Kitten was that the posts and so forth from this site were not written in "I" statements. This project is not about me. It is about a community of people inside a community in side… etc. Why is this project to important to me and what am I asking people to do with it? This is more of an "I" entry…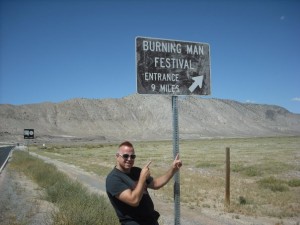 My name is Scott. On playa I am known as Toaster. I am a queer male who loves people of all genders and joined the Burning Man community to grow and I did. One of my early specific goals was to improve my relationship with women. I since then learned to accept and relate to people of all gender identities and am so blessed for it.
2008/2009: the beginning
When I became involved with my first Burning Man collective it was the Las Vegas Burning Man group. I arrived on a beach on Lake Meade one night and met Debbie and Mike; older wild ass couple you would fall in love with immediately. The Vegas community was in a huge transition at the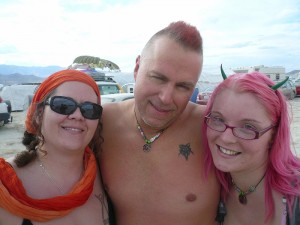 time with identity and base. I quickly became deeply involved and at some point along the way was being considered for a Regional Contact (R.C.) role.
At the time Cameron Grant was the core R.C. and his girlfriend Melissa were real heroes in keeping the community on track. Captain Bill and his wife Amber were also strong leaders in the community and I did great things will all of them.
Fact: there was a true embrace of people from all walks of life in this community. The lines between LGBTQ++ and other burners was never an issue. There were a lot of blurry lines.
So Why?
It became clear after my first year to Burning Man in 2009 that there was a huge presence of LGBTQ++ people. The Gayborhood was established and Comfort & Joy was the jewel of the crown. There was the last ember of "Stiffy Lube" in the shadow (history). I met a shining star under the mylar rain out front… and I wondered how could it be possible to make this amazing feeling last.
While queer burners had their own camps, clicks and factions there was no single unifying presence that understood LGBTQ++ needs. And, there was something clearly missing from the burner culture at large. There was direct and indirect homophobia. Not to mention on the onslaught of trolls on message boards; ePlaya etc….
This project is designed to provide safe space for people to network from. This is the space to get camp information and general information from the community within and without the LGBTQ part of it.
The web site
It started off as Gay Burners [dot] Com. An accident by a member who called it Queer Burners got me wondering… "who is looking at this site and who is the audience?" After all, this is for every person regardless of gender of orientation with a focus on the LGBTQ++ population.
It is about a place for community. While Burning Man [dot] Com is the premiere source for all things Burning Man there is a bevvy of sites out there for the pockets of communities out there. This is just another one. This speaks to the fastest growing segment of the Burning Man demographic.
Burning Man is not a gay event and many LGBTQ people who attend never go near the Gayborhood. But, the Gayborhood is so vital and important as an entity. Why? If you cannot see that now it simply cannot be explained any more than explaining Burning Man to normal people.
Keywords to note: safety, security, sanctuary, familiarity.
Bottom Line
I hope with all my heart that people see the value in this project and embrace it. We have groups to make us feel safe. Many of us queers have CHOSEN our families and made new and unconventional ones. We have our queer neighborhoods at home cities. We have groups of friends. We have so much and asking you to see the pride and community that blooms from queer burners inspires passion and more. It's about community. It's about a pocket of light that wants to shine back on all of you.